You should always factor in damage and repairs when deciding how to handle your company devices. Whether it's Mobile Device Management for a small business, an enterprise organization, or a large-scale corporation, devices will get damaged, and they will need to be repaired or replaced. It's unavoidable.
Learn more about Mobile Device Management suppliers here.
Neglecting to address the possibility would be short-sighted. For this reason, it's essential that you get acquainted with the costs involved, the types of damage that can occur, and how to make liability and User Agreement Policies simpler to navigate.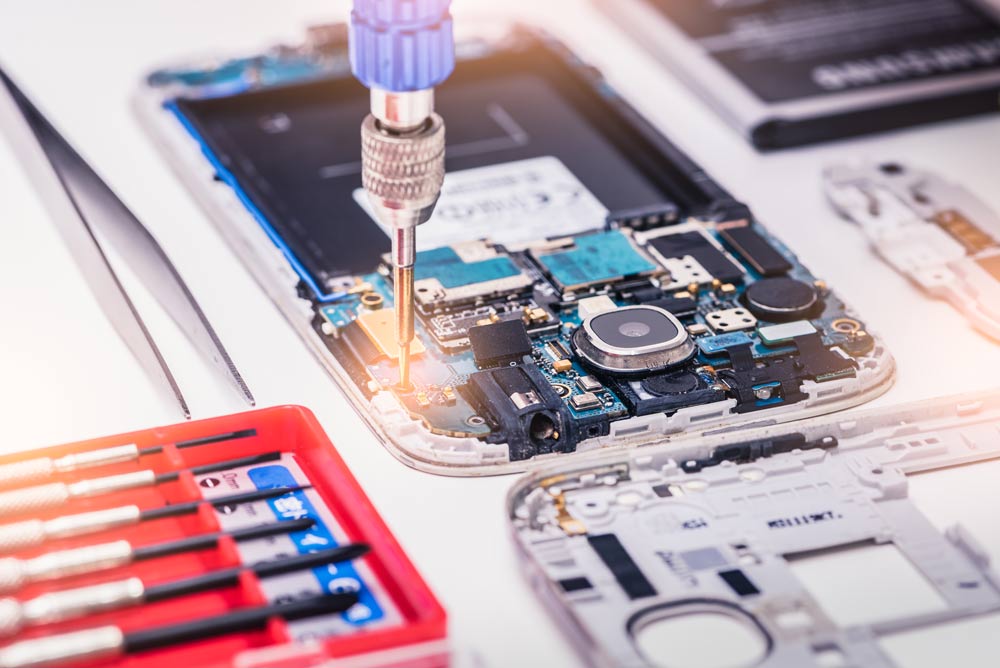 What sort of repairs might company phones need?
Across your business, company devices become vulnerable to many different types of physical and digital threats. Repairing these devices can be challenging, and it is often the responsibility of the device user to flag up when a device requires attention. Once damage or defects have been flagged, the device must be sent to the appropriate team, or repairs must be outsourced to third parties, which can be expensive. Some examples of when a device might need to be repaired include:
Reduced battery life after too many years of service
Discolored or cracked screen
Old software no longer supports new app upgrades
Accidental damage by user
Defects on new software/apps
How costly are company phone repairs?
Repairing company devices can be costly, not least because there are often many devices in circulation. It's impossible to put an exact figure to the question, but costs will be driven by the scale of your operation, the age of your devices, the type of damage, and how you source your repairs.
The final point, how you source your repairs, is the biggest factor that you have control over:
If you manage your company devices in-house, you will need some form of User Agreement Policy to determine whether the company or the individual is liable to cover accidental damage, willful property damage, or negligence. The costs recouped from the individual may not just be limited to the damage to the hardware, but may also include loss of revenue due to decreased productivity. If you opt for a phone installment purchase, you might end up paying rates for a broken phone.
If you choose to lease your devices, though the devices are provided by your chosen mobile service provider, you are often still responsible for maintaining and repairing your devices. Note that device leases often have inflated prices due to hardware 'bundles.'
If you choose to rent tablets and smartphones from a company like Everphone, you don't need to worry so much about liability. Repairing and replacing phones is fast, easy, and covered by your rental contract.
Repairing rented phones
With rental devices, the need to repair devices is far less damaging to company productivity. At Everphone, we maintain ownership of the devices that we rent to our clients, which means that the responsibility to take care of them stays with us. Your IT team is not responsible for organizing repairs and replacements; instead, your device rental company is dedicated to ensuring you can keep running at your usual rate. At Everphone, we have a few main features to make the process easier for you:
Quick mobile phone replacement
When you notify us of a faulty or damaged device, we aim to get a replacement out to you as quickly as possible. This means there is minimal downtime for your employees—considerably less compared to organizing repairs in-house. In addition, with quick no-questions-asked replacements, you know that your employees are not entirely out-of-action while their devices are being repaired. They can keep their high levels of productivity without much schedule disruption.
Direct user contact
When a device needs repair, we speak to the user directly. This saves company time and resources and minimizes the need for your IT team to get involved in the process. However, the entire process can be monitored via the Everphone Customer Portal. As given, repairs and exchange devices are already priced in, there are no extra costs involved for these.
Device vending machines
When renting devices with Everphone on a large scale, you get the option of installing device vending machines within your office space. These machines deploy everything from replacement chargers and adaptors to brand-new laptops, so your employees have exactly what they need, when they need it, regardless of unexpected damages or faults. Plus, it's all automated, so your IT team doesn't need to get involved in the replacement process, but can still monitor permissions, inventory, and costs.
Sustainable phone repairs with device-as-a-service
Renting your company phones is a great choice, not least because it has sustainability built into the plan. When devices have been repaired or refurbished by us, they are re-entered into the device cycle and reissued back to you or offered to another business (after full data erasure).
This prevents perfectly good hardware from being sent to landfill, and helps neutralize your carbon footprint. Phones are only retired and recycled by us when their hardware is out-of-date and can no longer be repaired to offer you the best service.
For more information on the benefits of renting your company devices, and how it can simplify device repairs, get in touch with Everphone.