Mobile Device Management (MDM) allows companies to distribute, control, and monitor the devices they provide to their employees. If those devices are Samsung, then the full Samsung Knox Suite MDM software is a great solution. For other Samsung devices, Samsung Knox provides the essential high-level security features that keep your company data safe.
What is Samsung Knox?
The full Samsung Knox Suite provides a host of features that make customizing, distributing, and protecting company devices simple. It began with just Samsung Knox, as security software that rivaled that of Google's Android MDM offerings, but has since evolved into a more comprehensive MDM solution. 
Samsung Knox security is built into the chips that form the basis of all Samsung devices, from smartphones and tablets to wearables. In the case of business devices, Knox works to protect business and personal data separately.
Is Samsung Knox an MDM?
Yes and no. Knox is an comprehensive Android Enterprise Mobility Suite. One of its modules, Knox Manage, offers the functions than most other MDM software: device and user administration, remote access, policy enforcement etc. Learn more about Knox Manage here.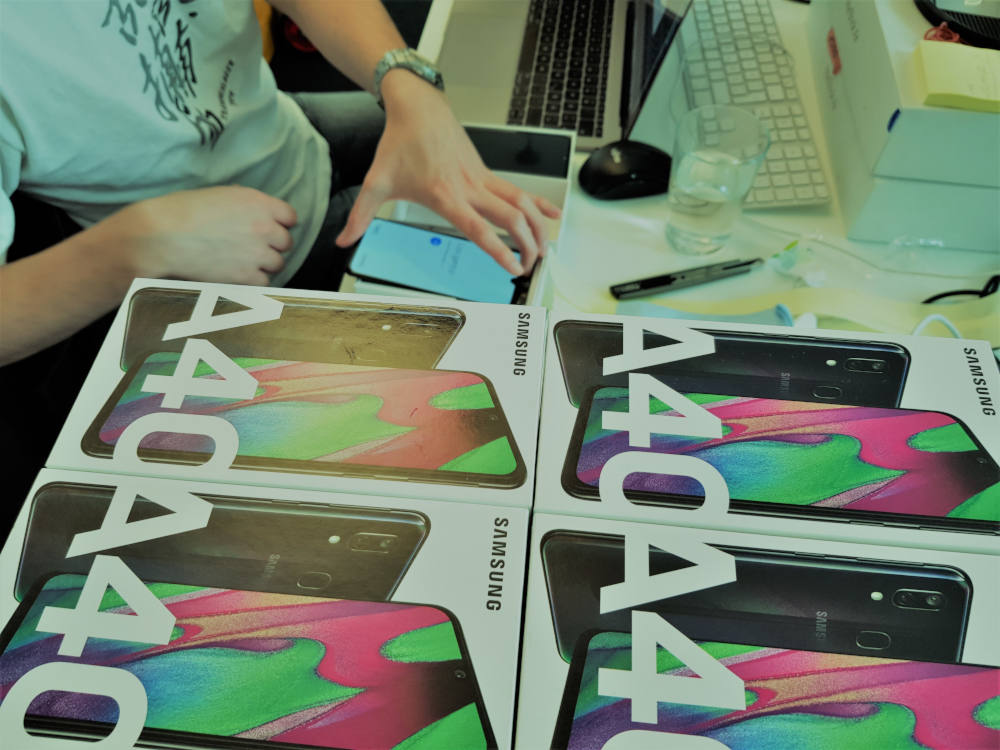 Combined with the other Knox cloud solutions, the security platform forms a reliable, secure method of issuing state-of-the-art Samsung devices and managing them through a central online hub. Knox Suite works as a Samsung MDM software on its own and can easily be integrated with Samsung devices, especually the Samsung Galaxy Enterprise Edition, which use Knox MDM functions as their basis by default.
What are the features of Samsung Knox?
Though the original focus of Samsung Knox was security, its features are much more far-reaching when used as part of the Knox Suite.
Samsung Knox security features include:
Multi-layered hardware and software security features that initiate as soon as the device is turned on
Overlapping intrusion, malware, and malicious threat protection mechanisms
Secure container on the device to Isolate sensitive or business data
Stored data remains encrypted at all times
Government-grade data protection
Remote device health stats
Invest in the Knox Suite for unified endpoint management to use all of the above, plus:
Out-of-the-box set up, with flexible enrolment options, including zero-touch
Brand customization for device user experience
Remote software update options
Install company-made apps across all devices simultaneously
Insights into employee device usage
See the big picture – overview of device fleet
Samsung Knox and MDM
Using Samsung Knox, either as the secure basis for your MDM, or as part of the Knox Suite, provides the answer to one of many business' key concerns about issuing company devices and allowing personal use: security.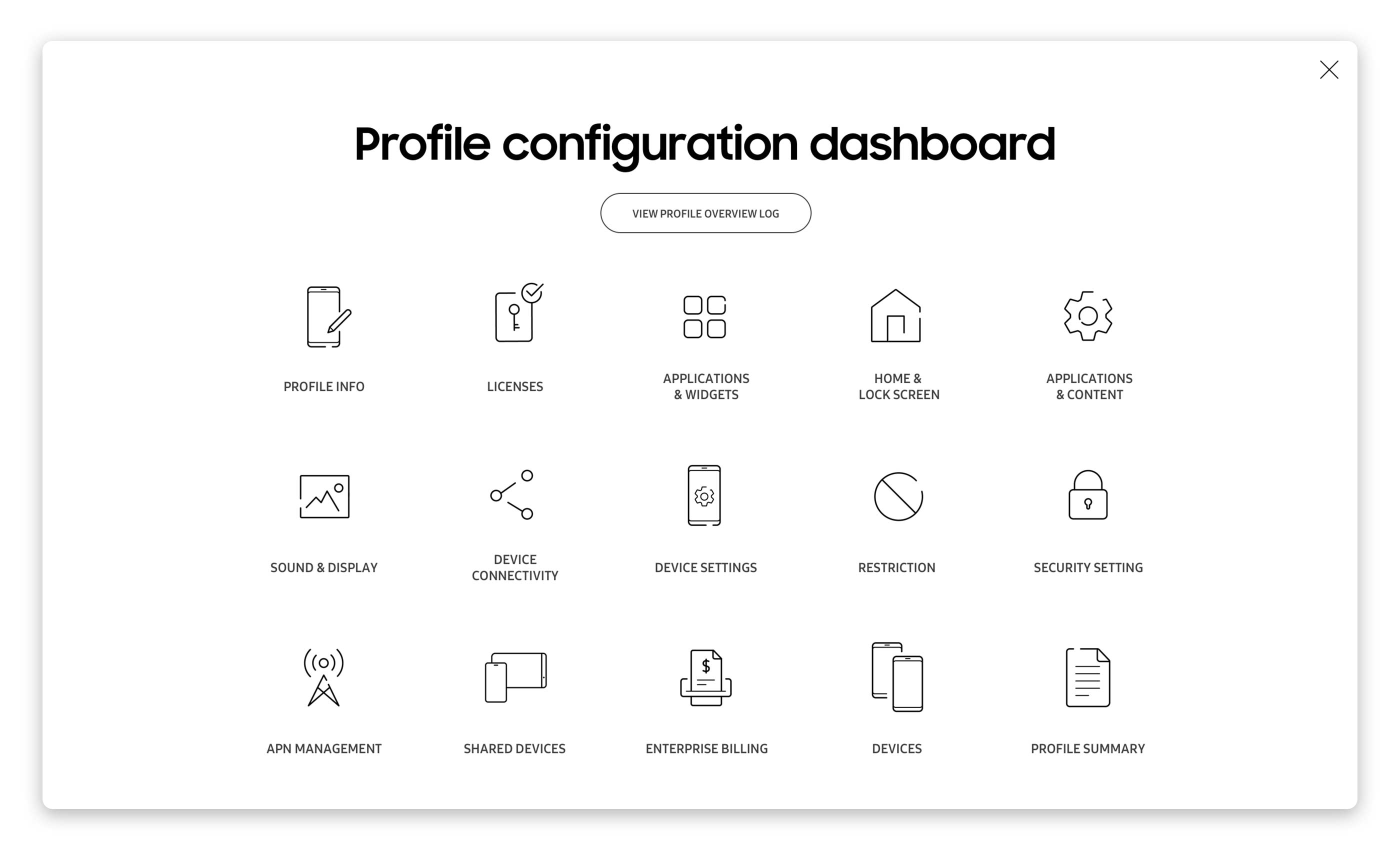 "Knox Configure" offers options to edit user and device profiles
With so many devices in the hands of employees, the risks of malware attacks, phishing scams, and data leakage is considerably higher. As remote working is also on the rise, IT departments suddenly have far less control over their systems and the networks that are being used to access company information. There is now a greater opportunity for malicious threats to find a way into your company's infrastructure. For this reason, security is a top priority.
Finding a secure answer to all your security concerns may seem like a big ask. But, Samsung Knox offers a government-grade security solution, so you are able to issue the company devices you know will boost connectivity and productivity amongst your employees, without compromising business data.
Samsung provides a pair of options for businesses seeking new company devices, or to change up their current MDM solution. The first option is to implement the Knox Suite software on Samsung devices that have been chosen by your staff (Bring-Your-Own-Devices (BYOD)) or have been selected by you.
There are a few important benefits to this type of Samsung Knox management:
First, it gives your staff the freedom of choosing which Samsung devices most appeal to them. They may be familiar with particular tablets or smartphones, so allowing them to continue on these device models will reduce any downtime in productivity or time-consuming training as the software is rolled out.
Second, it provides more flexibility for you to compile your preferred device fleet, rather than being limited by hardware.
Third, you are able to add variety to your device fleet, and introduce more hardware types (e.g. wearables), further down the line.
However, if you prefer a different MDM solution or want to integrate iOS devices as well, there is a lot of other MDM suppliers to go to.
Samsung Galaxy Enterprise Edition
Samsung Galaxy Enterprise Edition are devices that provide greater consistency within your fleet.

The benefits unique to Samsung Galaxy Enterprise Edition devices include:
5 years of security maintenance, with automatic security patch updates, and regular maintenance reports
Guaranteed 2-year product life cycle, which keeps things consistent for device users and reduces the frequency of device replacements
Devices are provided alongside the software, which keeps costs down and makes for easier replacements and repairs
How much does Samsung Knox cost?
Quotes for Samsung Knox Suite and Samsung Galaxy Enterprise Edition are calculated based on the number of devices you require and the mix of hardware. Buying the Samsung devices outright or leasing them can be costly in the long run, particularly when devices need to be repaired or replaced. However, there is a more cost-effective option: Phone-as-a-Service.
At Everphone, we offer rental contracts for our mobile devices. In short, this means you only pay for the devices when you are using them. Otherwise, they are returned to us, and you no longer pay for them. Repairs and upgrades are fast, and the cost of these, along with ongoing device maintenance and support, is included in your phone rental contract. So, the latest state-of-the-art hardware doesn't have to be out of your price range.
Contact one of our MDM experts to find out how Everphone's Phone-as-a-Service model could help make MDM more cost-effective for your business.
Other MDMs for Android and iOS
For many businesses, limiting your devices to Samsung or Samsung Galaxy is not possible. Your employees enjoy using iPhones as well or a different range of Android devices, provided by different manufacturers (such as Google, Nokia, Huawei, Xiaomi etc). If this is the case, an MDM solution that is more broadly suited to Android will be more appropriate. Check out our article about MDM software.
Everphone can assist in setting up MDM for iOS and Android devices to work alongside our Phone-as-a-Service model. To find out more about MDM, download our whitepaper below.