Our glossary explains basic terms and abbreviations relating to mobile working, the use of smartphones and tablets in the corporate environment (Enterprise Mobility) and security aspects in the use of mobile devices.
Battery capacity (mAh)
Nominal capacity of a rechargeable battery
An rechargeable battery supplies a smartphone or tablet with a current of electrical charge.
The so-called nominal capacity is specified in the unit ampere hours (Ah). For mobile devices, the unit milliampere hours (mAh) has become common.
A milliampere hour is the amount of charge that flows through a conductor within one hour when the electric current is at a constant of 1 milliampere (mA).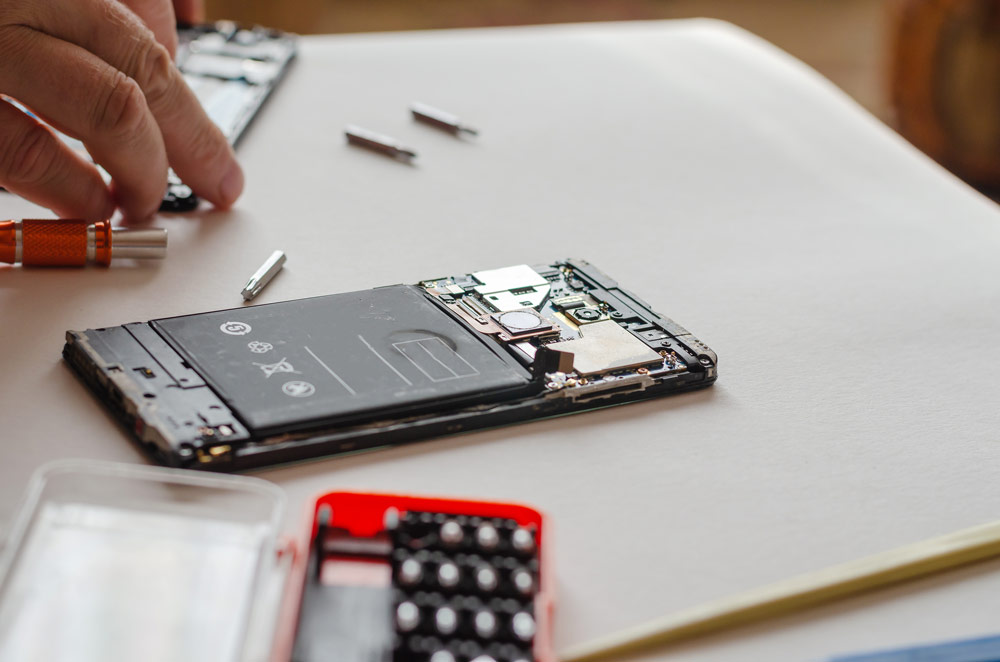 Battery runtime depending on the nominal capacity
The mAh value indicates how long a smartphone battery can run without having to be recharged. For example of such a calculation: If we theoretically assume a smartphone consumption of 250 milliamperes per hour and a nominal capacity of 2,500 mAh, the battery life would be ten hours.
In reality, however, it is not only the nominal capacity that matters, but also how well-balanced the various components, especially the processor, memory and display, perform with one other with regards to efficiency. There are numerous examples where batteries with nominally lower nominal capacity have a significantly better performance than given comparison models.
Smartphone batteries
As a guideline, one can assume the consumption of modern smartphones to be around 100-500 mA/h depending on the activity. Typical nominal capacities are around 2,500-4,000 mAh. However, some models also reach the rating of 5,000 mAh, such as the Samsung Galaxy S20 Ultra or the Motorola Moto G7 Power.
Here are some examples of battery capacities of newer smartphone models (as of 2023).
| | |
| --- | --- |
| Samsung Galaxy S23 | 3.900 mAh |
| Samsung Galaxy S23+ | 4.700 mAh |
| Samsung Galaxy S23 Ultra | 5.000 mAh |
| Apple iPhone 14 | 3.279 mAh |
| Apple iPhone 14 Plus | 4.325 mAh |
| Apple iPhone 14 Pro Max | 4.323 mAh |
| Google Pixel 7a | 4.385 mAh |
| Google Pixel 7 Pro | 5.000 mAh |
Nominal capacities of current smartphone batteries (2023)
Tablet batteries
As a rule, larger batteries are installed in tablets, firstly because there is more space available, and secondly because the significantly larger display consumes a lot of energy. Modern tablets have a battery capacity of around 5,000-10,000 mAh.
Here are a few examples:
| | |
| --- | --- |
| Apple iPad Pro 12,9″ (2022) | 10.758 mAh |
| Apple iPad Pro 11″ (2021) | 7.538 mAh |
| Samsung Galaxy Tab S8 Ultra | 11.200 mAh |
| Samsung Galaxy Tab S6 Lite | 7.040 mAh |
| Google Pixel Tablet (2023) | 7.020 mAh |
Nominal capacities of current tablet batteries (2023)
Rated capacity for iPhones and iPads
There is a special feature with Apple models: traditionally, the US manufacturer does not state the nominal capacity of iPhones and iPads in mAh, but in runtimes for typical user scenarios. The mAh values in product sheets and databases are usually taken from tests or so-called teardowns (i.e. dissections of the device into its various components and groups) by third parties).
Batteries and sustainability
The cobalt needed for the batteries is a problematic raw material. Read more about this in our sustainability white paper.