Mobile communications standard
Our glossary explains basic terms and abbreviations relating to mobile working, the use of smartphones and tablets in the corporate environment (Enterprise Mobility) and security aspects in the use of mobile devices.
Mobile communications standard
Mobile communications standard
Technology for mobile communication
Mobile communications standard is an umbrella term for various techniques and technologies used in mobile communications. Historically, mobile communications networks were initially created with a focus on telephony and short messages (SMS). Today, mobile communications standards are primarily used to transmit mobile data (mobile Internet).
This seems plausible in light of the fact that more and more smartphones and tablets are in use that seek access to cellular networks for data transmission. Over time, mobile communications standards are capable of ever higher transmission speeds. In order to support a mobile communications standard, the mobile device must have the corresponding hardware installed, for example an LTE modem.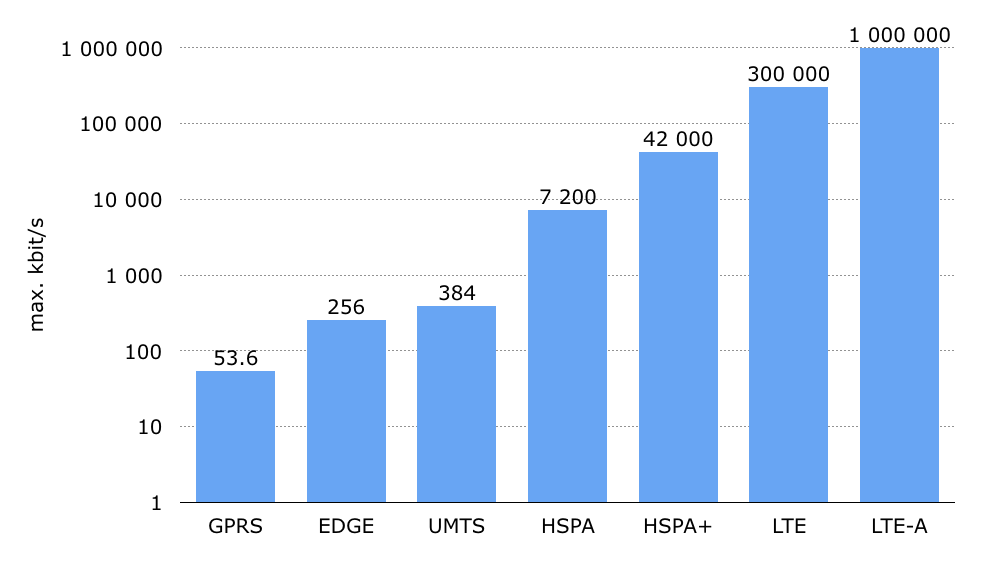 Mobile communications standard generations
Mobile communications standards are divided into several generations, whereby the first generation was still analog mobile communications technology. From the second generation (2G) onwards, the mobile communications standards are exclusively digital. Here is the overview.
Analog mobile communications (1G)
A network (1958-1977), land mobile stations with switching
B network (1972-1994), self-dialing connections from radio network to telephone network and vice versa
C network (1985-2000), cellular mobile communications network based on the C-450 standard
GSM (2G)
GSM stands for "Global System for Mobile Communications". This second mobile communications standard, 2G, was introduced in 1990 and is used worldwide. In addition to voice transmission using various audio codecs, data packets can also be transmitted.

Transmission rate: 9.6 Kbit/s
GPRS (2,5G)
The Global Packet Radio Service (GPRS) is an improved technology introduced in 2001 for packet data transmission within the GSM network.

Transmission rate: 53.6 kbit/s
EDGE (2,75G)
EDGE is the abbreviation for "Enhanced Data Rates for GSM Evolution". As the name suggests, this is a technology for increasing the transmission rate in the GSM network. The standard was introduced in Germany in 2006.

Transmission rate: 220 kbit/s
UMTS (3G)
With the "Universal Mobile Telecommunications System" (UMTS), the third mobile communications generation 3G was introduced in Germany in 2000. The auction of the frequencies earned the FRG almost DM 100 billion.
Transmission rate: 384 kbit/s
HSPA (3,5G)
"High Speed Packet Access" (HSPA) is an extension of the UMTS band. Here, 3G transmission rates of more than one megabit (Mbit) per second were achieved for the first time.
The peak HSPA transmission rate is 7.2 Mbit downstream.
HSPA+
Another improved UMTS mobile communications standard is HSPA+ (since 2010). Under laboratory conditions, it achieves transmission rates of up to 42 Mbit/s.
LTE (3,9G)
LTE ("Long Term Evolution") also belongs to the third generation of mobile communications standards, even if this is often presented differently for advertising reasons. However, LTE is still based on the UMTS infrastructure, but with much higher transmission rates: Up to 300 Mbit/s can be achieved with LTE under optimum conditions. This makes LTE a real alternative to conventional DSL Internet connections, especially in rural regions.
LTE-Advanced (4G)
Long Term Evolution Advanced, also known as LTE-A or LTE+, has been in widespread use since 2014. The fourth generation (4G) of mobile communications standards naturally also offers increased transmission rates again, namely an incredible 1,000 megabits per second (1 Gbit/s).
5G
5G is the latest mobile communications standard, approved since 2018. In addition to the tenfold increase in the LTE-Advanced transmission rate to around 10 Gbit/s, 5G has another advantage, namely extremely short latency. This should not only be advantageous for mobile Internet, but also for the so-called Internet of Things.
Current (2023) premium smartphones are already 5G-capable variants by default. Apple introduced smartphones with a 5G modem for the first time in October 2020 with the models of the iPhone 12 series: in addition to the iPhone 12 Pro Max and 12 Pro, the iPhone 12 and the iPhone 12 mini.
6G
The 6G network is scheduled to go live from around 2030. The goal is transfer rates of up to 400 Gbit/s. The technical implementation options are currently being researched worldwide.
International coordination via 3GPP working group
Important for the internationally standardized and coordinated development is the 3GPP (3rd Generation Partnership Project) working group, which has existed since 1998 as an association of international standardization authorities such as the European Telecommunications Standards Institute (ETSI) and Japanese, Chinese, American and Korean institutes. The 3GPP coordinates the standardization of GSM, UMTS, LTE and NGN (5G) worldwide.
Read also