Our glossary explains basic terms and abbreviations relating to mobile working, the use of smartphones and tablets in the corporate environment (Enterprise Mobility) and security aspects in the use of mobile devices.
Smartphone processor (CPU)
Central processing unit of a smartphone
The abbreviation CPU stands for "Central Processing Unit" and refers to the processor of the mobile device. As the central processing unit of a mobile device, the processor handles commands, performs arithmetic operations, processes data and outputs it again.
A smartphone SoC (System-on-a-Chip) is a small box with an edge length of about one centimeter.
Processor cores
The description of a smartphone's processor usually includes specifying the CPU manufacturer, the processor type, the number of processor cores, and the CPU clock rate for the individual processor cores.
Single-core processors no longer exist in current smartphones—they all rely on multi-core processors. A "core" refers to a unit of computing and control unit, which is completed by further components like the cache memory and the MMU (Memory Management Unit).
Almost all current smartphone and tablet models use ARM processors and thus follow the microprocessor design of the British licensor ARM Limited. The processors are lasered in pairs into a piece of silicon. Since other system components (for example, a dedicated graphics processor (GPU), the cellular modem, AI accelerators or Bluetooth and WLAN control units) are added, they are also called SoC processors, where SoC stands for "System on a Chip".
Depending on the number of processor pairs, SoC processors are then called
Dual-core (one processor pair),
Quad-core (two processor pairs),
Hexa-core (three processor pairs) or
Octa-core (four processor pairs).
Clock frequency
The CPU speed (clock rate) is decisive for the user experience: If a smartphone or tablet is equipped with a low-power processor, apps will behave slower or unpredictably, or displays will be poor in detail. Simplified, the clock rate indicates the frequency with which the cores process the tasks. The hertz number of a processor indicates the time that is needed to execute a work step.
At a clock rate of one gigahertz, the clock period is one nanosecond. An octa-core processor with eight 1 GHz cores would accordingly be able to execute eight instructions per nanosecond. The maximum clock rate for current (as of 2023) top smartphones or tablets is between two and three gigahertz (GHz). A higher clock rate would consume too much power and result in a too short battery life. In addition, the heat development would also be too strong.
Smartphone manufacturers now combine processor cores with different clock speeds on one chip for performance reasons. Power-saving efficiency cores (often based on the ARM design Cortex A53 or Cortex A55) are supplemented by powerful performance cores (for example ARM Cortex A72, A73 or A75), which provide the required performance in computationally intensive applications.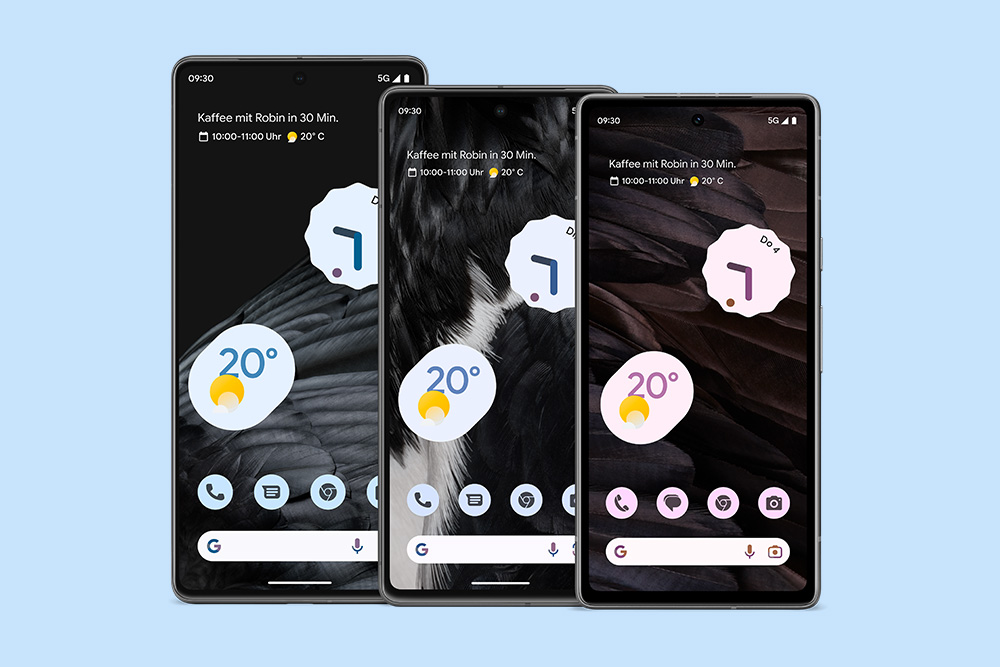 Example Google Pixel 7a: The Android model relies on the processor "Google Tensor G2", consisting of:
two performance cores of the type ARM Cortex-X1 (2.85 GHz),
two mid-range ARM Cortex A78 cores (2.35 GHz) and
four ARM Cortex A55 cores with up to 1.8 GHz each.
CPU manufacturers
A number of manufacturers divide the smartphone CPU market among themselves, with the Taiwanese contract manufacturer TSMC taking large volumes. The in-house chipsets have their own brand names here, such as the A-series (Apple), Exynos series (Samsung), Kirin series (Huawei) and Snapdragon series (Qualcomm).
Some examples:
Apple A13 Bionic in the iPhone 11
Huawei and HiSilicon Kirin 980 in the Huawei P30 Pro, respectively.
MediaTek MT6755S in the Nokia 5.1
Qualcomm Snapdragon 855 in the Google Pixel 4
Samsung Exynos 9820 in the Galaxy S10
Processor benchmarking
Due to the many different possible combinations of SoC processors, it is difficult to assess the performance of CPUs only on paper. Collecting benchmarks in tests is more informative in this case. A very detailed documentation of smartphone and tablet CPU benchmarks can be found at our colleagues from notebookcheck.com.