Company cell phones: "In leasing, you pay only 80 percent of the purchase price".
What comes across as a convincing argument from leasing providers can be viewed with the same skepticism as the promises of all shrewd salespeople. In our experience, only a few leasing companies ever achieve the 80 percent savings they claim, and hidden costs usually spoil the pleasure of leasing.
Our recommendation: During the initial negotiations, ask specifically about the following nine cost drivers.
9 Cost drivers in smartphone leasing
Costs of the so-called "collection" phase

Lessors often charge for a three-month collection period (before and after the term) to reduce administrative overhead. This means that you are not charged for 24 or 36 months, but for 24+3 or 36+3 months. This alone means that the supposed price advantage of leasing usually melts away like butter in the spring sun.

By way of comparison, when you rent a device, you only pay for the actual rental period.

Return of devices

Which colleague had device XY again? And where is he at the moment? And where is the smartphone with the IMEI number 1234 now–does a colleague have it or was the company cell phone stolen? Questions upon questions. What becomes problematic here is the bundling of company cell phones on the so-called "leases," which bundle devices in different batches (usually 50, 100 or 200 devices): Unless all 100 leased company cell phones on a lease are returned by the due date, lease payments continue indefinitely.

If you still want to get out of the lease, the purchase price (!) of the devices may have to be refunded. This means that whether a device is not found or simply no one has time to replace it, it does not matter at first: In both cases, you pay more.

For comparison: With the Everphone rental model, you only pay the current value in the event of a loss (residual value table) and can terminate the rental in the same month.

Device not in perfect condition

After return, all leased devices are "graded", i.e. their technical condition is assessed. If this falls below a certain level (normally this is the case for 30-40 percent of the devices), you also pay a fine here. The amount can be up to half of the new price!

Repair costs

When leasing, your company is liable for all damage to the mobile device. As a lessee, you usually receive a basic repair as part of the service package. However, these services are often time-consuming and not very user-friendly. If damage is reported, it can take up to ten days to replace the device, and around ten percent of repaired devices remain defective after unsuccessful repair.

For comparison: With Everphone, you only pay for usage. Damaged devices are promptly replaced with new devices as part of the service.

Extra effort in case of employee change

An employee leaves the company or goes on parental leave? The leasing contract continues to run. You may have to take care of the new allocation of the device. Whether the employee in question is then happy to receive a used smartphone is another matter.

By way of comparison, with Everphone the device is actively recalled, the lease stops in the following month, and the next employee is sent a new device–completely automatically.

Operational effort

Generally, operating costs are often neglected or ignored in leasing offers. If you want to offer on-site replacement for your colleagues, the operational expense is usually completely at your expense.

By way of comparison, for larger company cell phone fleets, we offer to handle the complete fleet replacement at the main locations on site at no extra cost to you.

Special services

Special services such as certified erasure and disposal are generally not free of charge. The cost of these services is added to the monthly lease price. In terms of the term, this seems plausible at first – but lessors know that their customers pay an average of 32 months for a 24-month device. The costs for the additional services multiply accordingly and are thus far higher than the market norm.

By comparison, Everphone does not charge extra for certified deletions or disposal.

Asset management/device management

Often, the offer does not state that you must use and pay for the leasing provider's asset management software. But don't worry: It will obligation appear reliably in the general terms and conditions or in the contract. Often, in-house software developments from the server and desktop environment are used. These solutions are only suitable for mobile self-service to a limited extent and are also cost-intensive.

For comparison: At Everphone, asset management is part of the business model. We don't charge anything for this and maintain the data in real time.

Phone insurance obligation

Some lessors oblige you to take out device insurance. In any case, these are far too expensive and are not worthwhile. In addition, you have to reckon with considerable time for the settlement of an insurance claim. Please also read our founding story.

For comparison: With Everphone, all damages (self-inflicted or warranty case) are already covered in the rental.
Company cell phones: rent instead of lease
As you can see, there are numerous problems with regard to lessors' calculations. Even if their offers give the impression that they "fit on a beer mat": Expect to have to deal with lots of fine print.
In addition to hidden costs, there are usually more problems with leasing: the internal overhead, the frequent lack of transparency of services and processes, and also the lack of flexibility of some providers.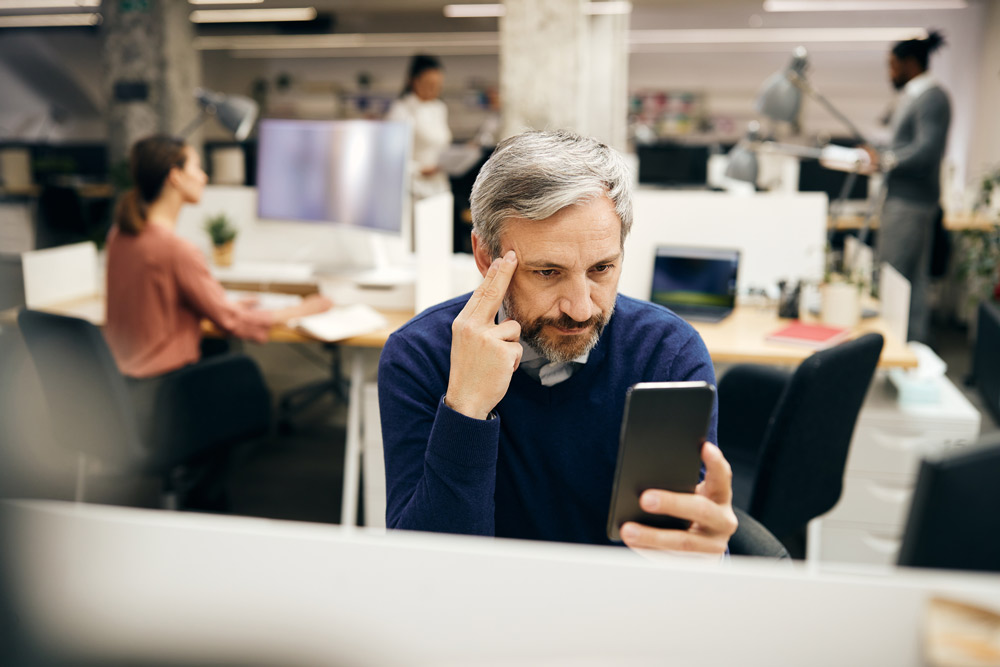 When calculating equipment costs, you should also think about the administrative overhead
One example of a lack of flexibility that we often encounter is problems with invoicing. If changes occur in the invoicing of the respective service recipient (change of location, change of cost center or the like), this is often simply impossible.
Since leases with more than 100 devices are contractually bound to one company during the term, subleases to affiliated companies are also not possible.
With a company cell phone lease, on the other hand, you can individually and flexibly change all the devices in the framework agreement between billing units. This is essential if you want to allocate costs according to the source.
Get out of leasing
Get out of leasing
Many companies contact us because they want to get out of the leasing construct. Usually the reason is the escalating costs after signing the contract – even though the previously calculated total leasing price seemed so attractive ("80 percent of the purchase price"). We then redeem the expiring leases on a monthly basis and replace them with rental equipment.
What are your experiences? Let us know in a comment.
Also worth reading