50,000 visitors, 300 partners, 300 speakers and 90 entertainment acts: At "Digital X," Europe's leading digitalization fair, the whole city center of Cologne (Germany) was transformed into a huge stage for digitization. Although—actually there were 15 stages, spread over four city districts. And Everphone was right in the middle of it.
A giant stage for digitization
For the first time, the two-day "World Exhibition of Digitization" opened its doors on September 13 and 14, 2022 not only to trade visitors from the B2B sector. With free highlight tickets, the event was also open to private visitors.
These were not only able to attend selected highlights—there were also consumer-targeted brandhouses and attractions, such as the "MagentaTV" lounge or the "Null Problemo" store.
The event was opened by Hagen Rickmann (the Managing Director of Telekom Deutschland GmbH). The illustrious line-up of speakers included …
Tim Höttges (Chairman of the Board of Management Deutsche Telekom AG),
Jessica Alba (The Honest Company),
Steve Wozniak (Co-Founder Apple),
Julian Nida-Rümelin (Bavarian Institute for Digital Transformation) and
Facebook whistleblower Frances Haugen.
First a warning, then a rock concert
In his keynote speech, Deutsche Telekom Board Member Tim Höttges warned stakeholders in Germany against missing the boat on digitization: Germany is resting too much on its laurels and investing too little in the expansion of digital technologies. For example, only one percent of gross domestic product is invested in digital innovations—but up to six percent is needed.
However, this hardly had a negative impact on the exceptionally good atmosphere. At the grand finale of the first evening, a concert by the British rock band Muse, Cologne's MediaPark shook under the feet of thousands of dance-loving visitors.
Smartphones and sustainability—is that possible?
Everphone CEO Jan Dzulko also spoke at Digital X. His topic: "Smartphones and sustainability—is that possible?"
If you are interested in the sustainability of mobile devices, I recommend our whitepaper, which deals with exactly this topic in detail. To download it, simply click on the banner on the right/at the end of the article.
Impressions from Digital X
Unfortunately, it rained quite heavily on the second day of the fair—but exhibitors and guests defied the weather impressively.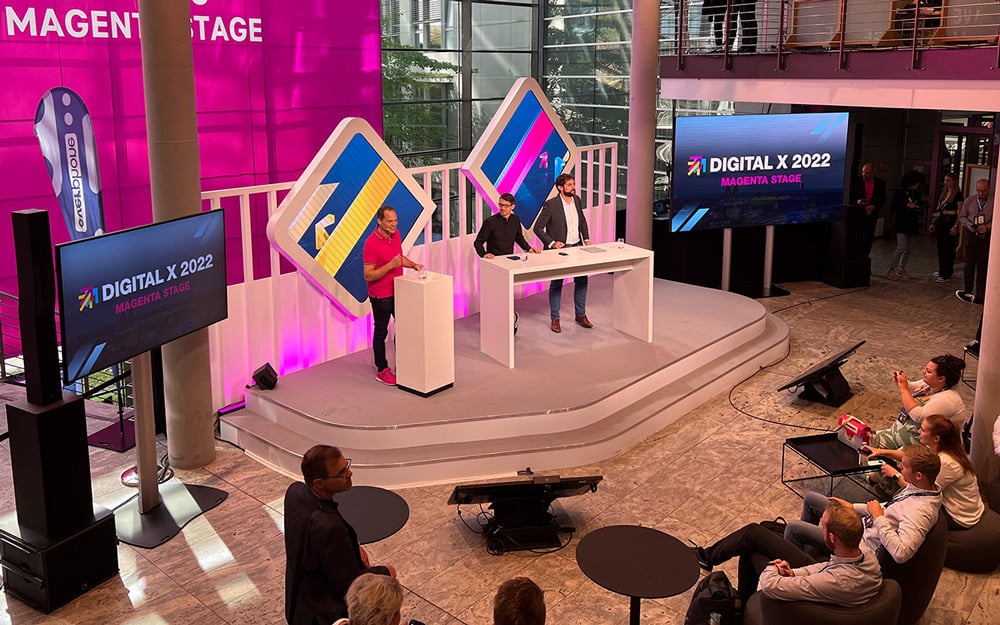 Everphone CEO Jan Dzulko (center) on Telekom's Magenta Stage at Digital X
Click here for the official coverage in Digital X magazine. And in the following video, you can see the Digital X virtually in fast motion from the Everphone point of view.
Have fun watching—and maybe we'll see you in person next year!
Save the date for September 20 and 21, 2023.