Does the corporate management process protect your smartphone? Make ESET MDM for iOS a part of your corporate policy so that you can feel more secure and protect yourself from mobile threats designed to access your data and compromise your privacy while also protecting sensitive business information.
Setting Up ESET Mobile Device Management for Apple iOS
ESET's Mobile Device Management for Apple iOS is one of the the world's leading endpoint protection platforms. It delivers immediate, automated protection against the latest malware, phishing, and potentially unwanted applications (PUA), exploits, ransomware, rootkits, and more.
With default-deny protection, our security solutions work together to proactively block malware and prevent unauthorized access to your network — even on mobile devices.
Before You Begin:
Ensure that your device has sufficient space available to accommodate the download and installation of ESET MDM for iOS.
If you are using a corporate Wi-Fi network, ensure that your device can freely access the Internet.
If you are using a corporate Wi-Fi network, your IT department may have set up a proxy server. You will need to configure it to download and install ESET MDM for iOS.
Ensure that you have administrator rights to download and install ESET MDM on your device.
Step-by-Step Guide To Install ESET Mobile Device Management for Apple iOS:
Download the ESET MDM Agent app from the Apple App Store to your device.
Launch the ESET MDM Agent app and tap Allow.
Tap Settings > General > Profiles & Device Management and tap Trust ESET MDM.Note: If you do not see Profiles & Device Management, this means that another organization manages your device (e.g., a school or company), and you are not able to install/update apps using this method.
Go back to the Home screen, tap Settings > General > Device Management, and tap Trust ESET MDM for iOS Agent.
Tap Continue to launch the ESET MDM Agent app, enter your email address, then tap Sign Up (new users) or Sign In (existing users).
If prompted, enter the passcode for your mobile device and tap OK to continue with the  installation process. If you are not prompted for a passcode, go directly to the next step.
The installation process will begin automatically after entering your email address or passcode in steps five or six above and tapping OK or Sign In in step six above.
When the installation is complete and all settings customized, you will have a system that goes beyond your sophisticated lifestyle.
Functions of  ESET Mobile Device Management for Apple iOS With ESET mobile device management installed on your Apple iOS, you can do the following:
Send an invite to your employees to connect their devices so you can manage them remotely
Update and configure the settings to fit your business needs
Get back to work!
ESET MDM on Android and iOS: Features & Products
ESET Mobile Device Management for Apple iOS and Android is a lightweight cloud-based solution that enables organizations to manage and secure their mobile devices efficiently. It offers a simple and intuitive interface for administrators and end-users, powered by ESET's renowned security technologies.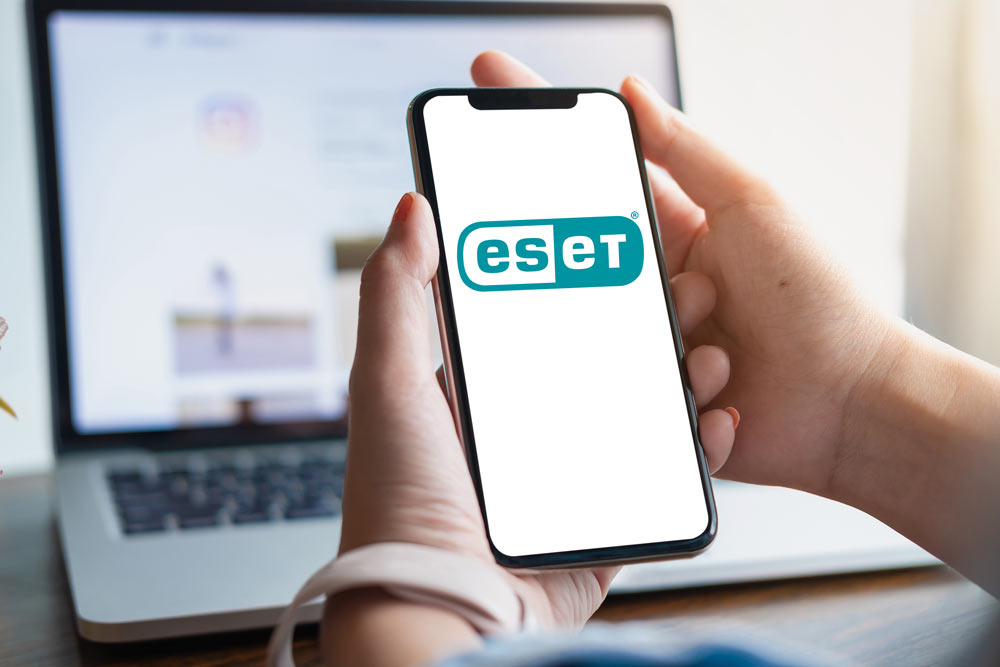 Unlock the full potential of your business with ESET Mobile Device Management for Apple iOS:
Safer mobile workforce: Keep your data safe from loss and theft as well as any malicious apps, websites, or content.
Powerful integration: Easily deploy our solution across multiple platforms and integrate with Microsoft Active Directory via LDAP.
Improved compliance: Keep track of your devices and ensure that they always comply with your organizational standards.
The Top 5 Features of ESET MDM on Android
Keep in mind that not all ESET Mobile Device Management (MDM) solutions are equal. Here are the top five features our Android customers love most:
Enrollment: Enroll new devices, update existing devices, or enforce policy restrictions on any devices at any time.
Policy Management: Apply policies to specific groups and restrict certain functions, like access to the camera or Bluetooth.
Geofencing: Use geofencing to limit access to certain areas. You can even set different fences for different employees.
Device Locking: Lock employee devices remotely if they're lost or stolen. The device owner can also lock the device on demand when needed.
Remote Wipe: Delete all data from a lost or stolen device, including email and other applications to prevent a data breach.
ESET MDM for iOS and Android ensures that your employees only get the most cutting-edge Mobile Device Management experience on their preferred devices.
MDM Comparison: Internal Corporate Devices vs. Employee-Owned
Let's take a look at some of the comparisons between internal corporate and employee owned devices.
Devices
The MDM market is split into two types of solutions: those that manage a company's internal devices and those that manage employees who access corporate data from their own devices.
This distinction is important because the use cases are very different. With employee-owned devices, you can give employees a choice of device, but you still need to protect your network. Whereas with employee owned devices, you can't dictate what an employee uses their device for, but you still need to protect the business' data.
Internal corporate devices: It's a matter of finding ways to keep employees productive when they are not in their offices or connected to the corporate network. It's also a security issue, mainly if those devices are used to access sensitive data by non-IT personnel such as salespeople.
Employee-owned devices: There's the additional challenge of providing access for employee-owned devices while maintaining security. You need to make sure that you're protecting your network and not impacting the employee experience.
Overall MDM comparison: Most Mobile Device Management vendors offer similar features; industry experts say the choice ultimately comes down to how well a particular vendor meets your business needs.
MDM Competition: Sophos Mobile Device Management
With Sophos, you can rest assured that every time you log on to a network or connect with a public Wi-Fi hotspot, you're always protected.
We know you have valuable information stored on your phone (like the code to the vault where you keep all your money) and that if it fell into the wrong hands, it could ruin your whole day.
By downloading Sophos Mobile Device Management as a part of your Mobile Device Management strategy, you can ensure that Sophos will protect all of your devices from the latest threats.
That's why we've developed a security system that lets you lock down every device connected to your account with just one click of a button so that only people who are authorized can get in and see what's inside.
It's not just about protecting yourself—it's about protecting everyone else too! MDM allows you to lock down all of your devices at once, so even if someone gets through one layer of security, they still won't be able to access anything private or sensitive because another layer of protection is right behind it!
It's like having multiple locks on one door: If someone picks one lock, they're still stuck outside because there's another lock right behind it, keeping them out until they pick all the locks! Sophos is a leading software provider for malware and hacker protection for your mobile devices.
Read up on MDMs:
MDM and Cyber Security
As a leader in the industry, your organization faces a growing number of cyber threats. The greatest threat to your company's cyber security is not super-intelligent robots or a teenager in his mother's basement. The single greatest threat to your company's cyber security comes from the mobile devices your employees carry all day long.
It's a simple fact: most people use their personal phones for everything. They have access to every app under the sun, and they use them for work, for fun, for managing their lives. So when those devices are infected with malware or stolen, all of that digital information is at risk, too.
We know you care about protecting your data and your company's reputation. That's why we've integrated MDM (Mobile Device Management) solutions in our concept of renting out hardware with "Phone as a Service". Our service combines the MDM you are already using with our industry-leading support team to help you manage mobile devices throughout your company. If you don't have a MDM software yet, we will be glad to provide you with licenses from our MDM technology partners.
A MDM software offers granular insights into your company's mobile devices, allowing you to control devices remotely, receive alerts whenever a device has been compromised, and even wipe data from lost or stolen smartphones remotely. This is why MDM solutions are so effective in detecting and halting malicious software even before the user indicates a problem.
Pricing and Plans: ESET MDM for iOS
You get more than an ESET Mobile Device Management solution when choosing ESET Protect MDM. You get the industry's most reliable security, combining award-winning virus protection with advanced device management in a single solution.
With ESET Protect MDM, you can manage all your users' devices from one central location and enforce security policies on your corporate data to protect your business and your employees' privacy.
ESET Protect MDM Pricing and Plans:
1st tier: ESET Protect Entry – starts at $239 per year for five devices – per device $47.90.
2nd tier: ESET Protect Advanced Full price – $310.50 per year for five devices – per device $62.10 at full price.
The Discount price for 2nd tier: $248.40 per year for five devices – per device $49.60.
The ESET Protect Complete (EPC) package: starts at $382.50 for five devices per year –  per device $76.50.
ESET Protect Complete Plus (EPC+): starts at $453.00 for five devices per year – per device- $90.60.
3rd Tier: ESET Protect Advanced Full Price: $310.50 per year for five devices-per device- $62.10.
4th Tier: ESET Protect Complete (EPC): starts at $382.50 for five devices per year -per device- $76.50.
5th Tier: ESET Protect Complete Plus (EPC+): starts at $453.00 for five devices per year – per device – $90.60.
The prices listed above are the annual subscription fees and are based on a minimum purchase of five seats, which we have found to be the most common minimum order size. The actual pricing is based on the volume of licenses you purchase, so if you need fewer than five seats, your cost will be higher; however, if you require more than five seats, your price will be lower, with each additional seat costing less than the previous one.
Why is ESET PROTECT MDM the Top Product To Buy?
If you're looking for a complete, integrated Mobile Device Management solution for your company or enterprise, ESET Protect MDM is the best choice for you.
It offers all the features of other mobile solutions, ESET Mobile Security & Antivirus Premium, and extensive device management capabilities. It's also scalable—you can easily add devices as you need them.
Compatible with Android and iOS devices – ESET Protect MDM features:
top-quality antivirus protection;
anti-theft protection;
application control;
support for smartwatches;
intelligent system to prevent overconsumption of data; and
comprehensive ESET Mobile Device Management functionality.
Final Thoughts
In a nutshell, its simplicity, and one-stop management make it the total package for business IT. It defends the intended use of a phone and can adapt to your company's policy instead of the other way around.
It's made for business but works just as well for consumers who want their Apple device protected. It includes all kinds of threats, even if they don't know what those are yet.
The best thing about productivity and efficiency on your corporate or mobile phone is that by sticking with the ESET MDM for an iOS solution, you sleep at night because everything is encrypted and managed for you.
If you want to learn more about MDM solutions, take a peak in our MDM whitepaper, which you can download for free by clicking on the banner.