MDM on smartphones is a great way to ensure that corporate data is safe on mobile devices in the workplace. With MDM, you can set restrictions to prohibit downloading unverified applications. And protect the information assets in the case of lost or stolen smartphones that may put corporate data at risk.
What is a smartphone MDM?
If you were a high-powered CEO or world leader, how would you be able to stay in touch with your staff and family without the constant risk of being spied on or your sensitive data being at risk? The answer is simple: An MDM smartphone, which stands for "mobile device management."
MDM smartphones are devices that are installed with MDM software. This allows the company to set up separate work and personal use profiles. With MDM software on smartphones, your IT department can remotely install all the needed security and privacy apps across all company devices.
These phones have state-of-the-art encryption and security software pre-installed. This makes it impossible for anyone who doesn't have the unique passcode to access information stored on the phone.
Many of our most important clients have been victims of hacking because they used their personal cell phones or smartphones, which are not equipped with this level of protection for business and personal use. But when you use MDM on smartphones, you can rest assured knowing your data will never be accessed by anyone besides the people with the unique passcode.
Mobile Device Management with the newest iOS for professional and private use
Is your smartphone an extension of your identity? Smartphones are essential tools you use for work and play, for connecting with friends and family, and with colleagues and clients. It's a device that holds all your secrets, but that also makes you available 24/7. It can be a welcome escape from the pressures of life—or it can be a curse that never lets you disconnect.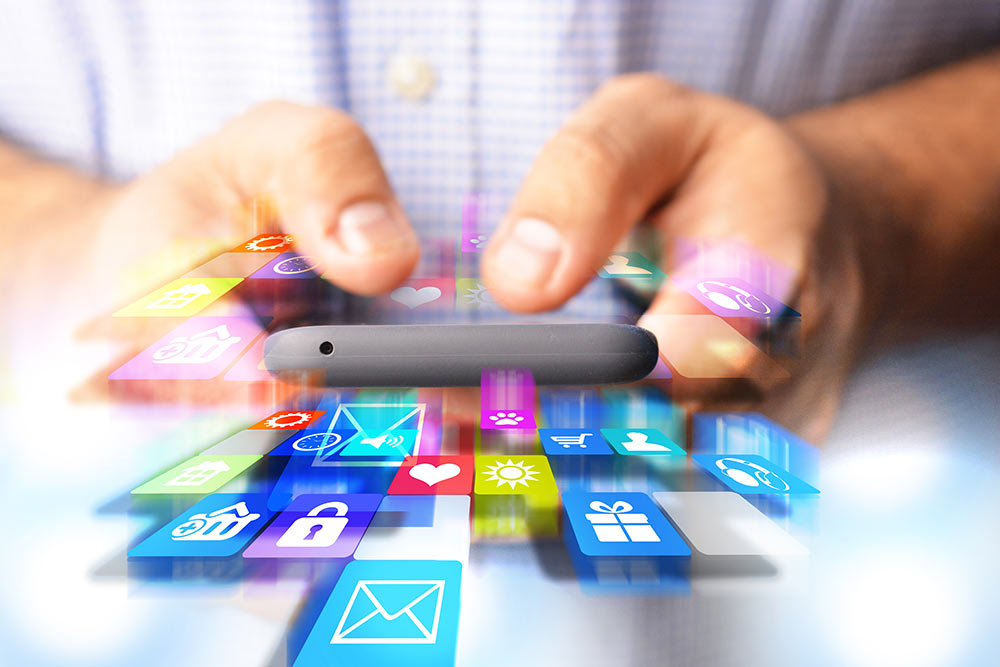 If your phone is like this, then it's time to take control of it. By using Mobile Device Management with the newest iOS devices, you can now manage your personal and professional apps on one device, keeping your professional life separate from your personal life (and vice versa).
Plus, you can now set up apps to only work in certain places or at certain times. So if you're tempted to check Facebook while working out or to send an email when you're supposed to be on vacation, Mobile Device Management with the newest iOS will block those apps until you're where you need to be.
Get control back over your smartphone with the newest iOS and MDM—and make sure the only thing giving orders is YOU.
MDM comparison
A good MDM solution can make the difference in mobile device security and IT efficiency, whether you're using Android smartphones or iPhones. Here are some tips to keep in mind as you compare MDM solutions:
Look for an administrative dashboard that makes sense. The best MDM solutions provide a dashboard. This way, administrators can easily see how devices are being used and take action if needed.
Administrators may want to message all users' devices notifying them of an upcoming meeting. Or they might want to lock down all devices after-hours when employees are supposed to be out of the office. A good dashboard will allow administrators to do both with absolute ease.
Ensure the solution has strong data protection features. Data breaches and hacks are becoming more common by the day, so keeping sensitive corporate data secure.
Sophos Mobile Device Management vs. MDM services
Sophos Mobile Security is a useful antivirus program for cell phones that is easy to set up and use. Just download it from the Google Play store and install it on your Android phone. The interface is simple, with two main tabs — Overview and More.
Sophos Mobile Control is IT security that puts you in control of your mobile workforce. A flexible, cost-effective, and easy-to-use Mobile Device Management with the newest iOS integration solutions lets you centrally manage and secure all your mobile devices from the cloud or on-premises.
Mobile Device Management services
MDM apps can be a good solution for personal use: If you're the boss using your own phone for work or in small businesses where your mobile fleet is miniscule. When you want to scale your business and have an extensive fleet of mobile devices and remote workers, you'll need more support. MDM management services such as those offered by Everphone are a better option.
Not only do they provide the device, such as smartphones and laptops, but they also pre-install all the necessary MDM software, security measures and apps. The phone will also already be partitioned to contain a personal and work profile. Then the company also offers MDM services to ensure all devices are working optimally, that all apps are updated and secure and even wipe devices that get lost, stolen or when an employee leaves the company.
These services are also usually GDPR compliant, which is critical for businesses. By having the services provided GDPR compliant, means that you don't have to worry about the compliance of your mobile fleet as well. This is something that downloadable apps can't guarantee.   Discover the benefits of Sophos Mobile Device Management Control:
A full overview of all managed devices;
Easily distribute apps, apps with integrated configuration profiles, books, and files;
Simple installation of certificates;
Remote control of your devices;
Restriction of unauthorized access with strong PIN code locks;
Easily locate lost or stolen devices;
Clearance of personal data on lost or stolen devices;
Functions of an MDM for smartphones
MDM on smartphones is a sophisticated software or service on devices that can benefit companies and employees. Some of the functions of MDM on smartphones are as follows:
Device identification and locking capabilities: An MDM smartphone app can lock a phone remotely or wipe it clean if it's stolen or lost. So the person who finds it has to reset it rather than accessing personal information on it. If the phone is recovered, you can restore the data from a backup after logging into a secure server.
GPS tracking capabilities: GPS tracking can pinpoint its location if a phone is lost or stolen. Tracking software may also monitor the path taken between two locations if needed for security purposes.
Geofencing capability: Geofencing works as a location-based service where the app uses WiFi, GPS, RFID, or cellular data. It is used to trigger a programmed task when an RFID tag or mobile device moves in or out of a virtual boundary that's established around a geographical location. This area is called a geofence.
The most common use of geofencing is for marketing and sales alerts. A business can set up a geofence with an associated message to send to customers within the boundary, alerting them of sales and special offers at nearby stores.
Geofencing can be used as part of MDM solutions to help prevent sensitive data from being accessed if an employee leaves an organization or fails to comply with corporate security policies.
When the employee leaves the organization's premises—and leaves the geofence—, access to sensitive information is blocked by MDM software on the device.
Customization: Employees can customize their devices within certain limits, making them feel more comfortable working on their Smartphone with MDM. They can choose from several apps tested and approved by its IT department. You can customize the menu structure, background, and ringtones to suit user preferences as well.
Device management: This allows for a remote control system for all devices. Which helps in troubleshooting problems and resolving issues quickly without calling IT experts every time there is an issue with the phone or its functioning.
Cost efficiency: Since all devices are interconnected, they are easy to manage and maintain and, therefore, cost-efficient.
Smartphone with MDM—features for employers
Some of the unique features of the MDM smartphone management system that help improve employees' productivity are as follows:
Screen Capture: This allows you to take screenshots of your employee's smartphone screen. It helps an employer monitor its employee's activities on their phone. You can send these screenshots to the employer at regular intervals.
So, whenever you want to know about your employee's activities, you can easily check out those screenshots. Also, if the employees are misusing their phones, you can take necessary actions accordingly.
Assign Tasks: You can assign tasks to your employees through MDM smartphones. Once a task is assigned, it will appear on your employee's phone screen as a notification so that they won't miss it.
Your employee will also view all their pending tasks through this notification panel. If they miss out on some important tasks, you can send them reminders.
Blocking access: Our Smartphone MDM software allows you to block access to websites and applications that you consider inappropriate for work. And it can provide reports that give you an overview of the applications your employees have installed on their phones.
Benefits for the company
The features of an MDM smartphone for employers that can be beneficial to their companies and employees are:
Multi-layered security
Uninterrupted connectivity
A single console for all devices
Scalability to any size organization
Ease of functions like updates, repairs, and remote wiping
Security features
MDM on smartphones come loaded with advanced security features that make it hard for hackers to access information on these devices. A list of common security features includes:
Biometric authentication: Biometrics is an important part of MDM smartphone security. Fingerprint sensors can be used to unlock the phone and open certain apps. These sensors also act as an extra layer of protection when employees access important data. Facial recognition software is another feature that helps protect the phone from theft or unauthorized use.
Remote wiping: One of the biggest problems with Smartphone MDM is their small size and easy-to-hide nature. If a device is lost or stolen, it's hard to determine its exact location, making it tough to retrieve it.Most

MDM smartphones

have a remote wipe feature that allows companies to instantly erase all data from lost devices. This function prevents unauthorized users from accessing company information or other sensitive data stored on the device.

Encrypted storage: The encrypted storage of the Smartphone MDM is used to store sensitive data with stronger protection.Android:

Android provides a full-device encryption feature. The user needs to set a PIN or password for the device and enable the encryption function in the settings menu. You can encrypt the mobile phone, and all user data on the device will be automatically encrypted.

iOS:

iOS offers full-device encryption options by default.

Windows Phone: Windows phone also offers full-device encryption options by default. But users must set a PIN or password for their device before using it.
Final thoughts
Everyone is different. What we need, what we like, and how we get things done are all unique. A smartphone that suits one person might not suit another.
That's why a MDM smartphone management system is the perfect choice for you—and your employees. Our phones are designed to be easily configurable to each user's needs and preferences, so they can work in a way that best suits them.
And because they're built with security in mind, they're safe for everyone to use—even with sensitive company information on board.
If you want a device that can help manage your mobile workforce and make them more productive on the go, our MDM on smartphone service is a solid choice.