Work phones have improved the way business happens in our modern world. Employees that use mobile devices for work purposes are more productive. However, mobile devices pose a security risk for data leaks and breaches. Thus, antivirus programs are useful on mobile phones. Mobile Device Management is an ideal solution for virus protection on your mobile.
How useful is antivirus on your mobile?
Work phones have expanded day-to-day business operations for most enterprises because they allow quicker communication and more productive employees. Employees can now access emails, documents, and servers with a click of a button. Plus, it's a small and easy thing to carry around, and employees have it with them most of the time during work hours.
The drawback of using a mobile device for work purposes is that it generates a higher security risk for sensitive data. Some mobile applications can share contact lists, access your documents, and other information which your business wouldn't want to share with other eyes.
Mobile security and antivirus protection
However, besides the ease of use for employees to use mobile devices for business operations, it also poses a massive security risk because data can easily be shared across other mobile applications.
Security threats are often caused because employees are using one mobile device for both their personal and work needs. The dual use of a phone is beneficial for the company's budget, but it is, unfortunately, a risk for the company's data.
Thus, an antivirus on every employee's device is essential for using phones for business operations. However, installing antivirus software on every individual employee's phone and encouraging them to update it regularly can prove to be a time-consuming process for your IT department.
The GDPR (EU General Data Protection Regulation) laws also enforce that a company isn't allowed to access employees' personal data such as personal emails, messages, and applications.
This leaves your business with a slight predicament for protecting sensitive data such as company contacts, emails, and documents. Fortunately, Mobile Device Management (MDM) software provides a solution for this security risk.
How does MDM provide virus protection on your mobile?
Mobile Device Management provides virus protection on your work phone. How? MDM is software that acts as a container app while allowing a centralized method to roll out antivirus updates.
Read more:
Firstly, a container app divides your employees' mobile devices into dedicated spaces: an encrypted workspace and a personal space. All the apps and data used for work cannot be transferred or copied into any personal apps that protect all business information.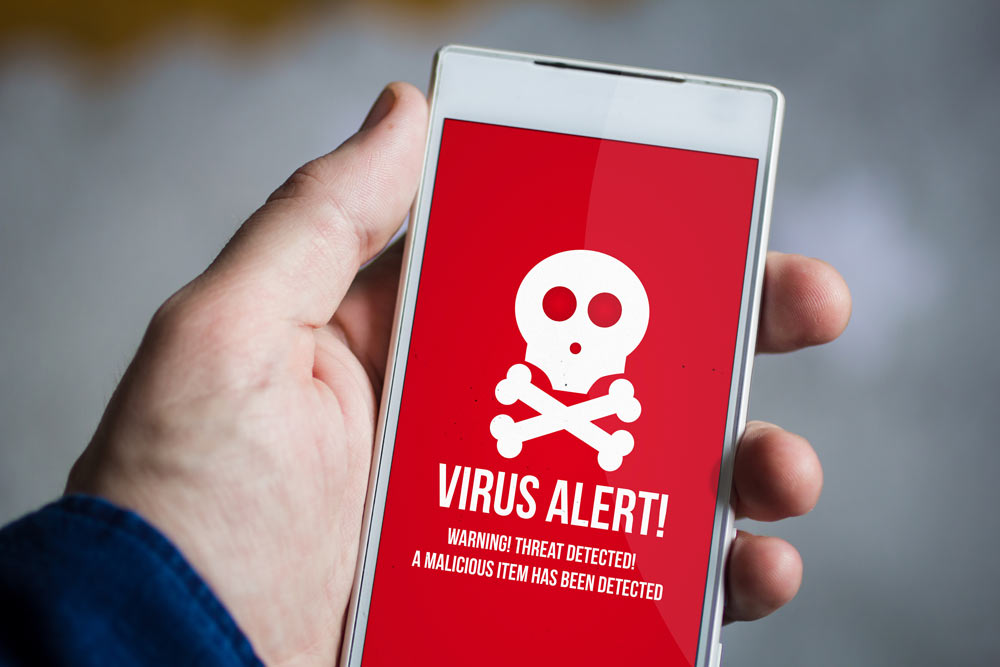 Secondly, IT can control access, updates, user agreements, and more in a centralized manner within the company's network. This means that IT can approve the apps and access the apps in the workspace while following GDPR protocol and not having any access to an employee's personal apps.
MDM is centralized
MDM allows for a centralized method for IT. All phones or devices currently in circulation for the business can be accessed by IT via a centralized enterprise network.
IT can centrally do:
software updates,
policies,
accesses,
and data distribution.
This can happen across the network in only a few minutes. This saves IT the time of having to access each individual phone and run the specific business requirements.
In addition, the centralized network that MDM provides ensures that all work data and information can be immediately wiped if the phone is lost or stolen.
Eliminate the security risk
Mobile devices pose a massive security risk for data attacks and breaches. Virus protection for Android or iOS on mobile devices is useful because it protects the enterprise's data from being attacked.
MDM eliminates this security risk through its state-of-the-art system that allows for continuous security updates and protocols that are put in place across the board. This also allows IT to recognize and respond to any attacks or leaks quickly.
Final thoughts
Overall, mobile phones are a useful component in our current business environment. Unfortunately, this proves to be a security risk of leaks or attacks for sensitive business data. Luckily, a simple solution can be implemented within your enterprise model.
Virus protection is useful and necessary for your mobile device. MDM software provides an encrypted dedicated workspace on every employee's mobile device that can be accessed from a centralized network for state-of-the-art security software that protects their personal data.