It isn't always obvious what you should do with old mobile phones when they are no longer of use to you. There is a misconception that proper disposal can be costly or time-consuming – this is simply not the case. It can be done freely, quickly, and sustainably. So, let's explore the process of recycling old phones, and the options open to you.
How do I dispose of old devices sustainably?
On average, mobile phone users will upgrade their devices every few years, depending on their need for new technology. Within one company of 100 employees, it's easy to see how quickly the number of old mobile phones getting thrown away grows.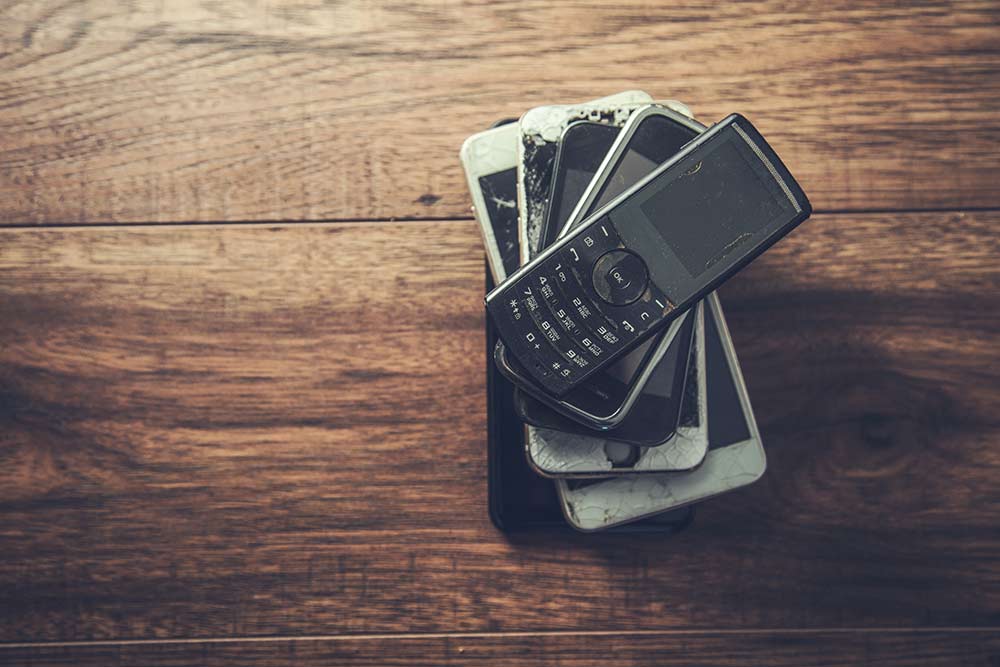 So, as a business, it makes sense to opt for a sustainable solution to old phone disposal, rather than contributing to the countless devices that will simply be sent to landfill. These devices release harmful chemicals – such as battery acid, lead, and beryllium – into the ground and water systems and take thousands of years to break down.
The key word here is recycling. Mobile phones contain a lot of valuable materials and hardware that can be recycled into new devices, which reduces the amount of new, raw materials needed in device manufacture. It is vital, however, that you choose the right recycling option.
Where are old phones recycled?
You have two main options when it comes to recycling your old phones: either recycle them directly yourself, or hand them to an organisation that can handle the recycling on your behalf. You can:
Check your local curbside recycling, as sometimes they will accept old electronics
Submit your old phone to your local recycling point
Donate your device to a charity shop, as they will be able to earn money from recycling the raw materials
Donate to a school or community group
Return your old mobile phone to its manufacturer, who will be able to recycle parts into new devices
Charity shops, charity programmes, and local schools and groups are our recommended recycling ideas. This way, your phone supports other good causes as well as keeping waste from reaching landfill. Either pick a cause that is close to your heart, or take a look at these recommended charities with designated mobile phone recycling programmes:
Pro Wildlife
Oxfam
Action Aid
Fonebak
O2's Community Calling
Vodafone's Great British Tech Appeal
Who buys old phones?
Recycling is not, however, the only sustainable option for phone disposal. You also have the opportunity to make a small profit, which can then go towards the device upgrade, whether you are an individual user or manage a fleet of devices for your company.
One option is to use the old device as part of a trade-in agreement with your mobile network. In exchange for old devices, many network providers will offer you a cash discount on your new contract or handset cost.
Alternatively, sell your phone to one of these types of businesses:
Technology shops can sell old phone materials
Recycling services such as WeBuyAnyPhone, Envirofone, and Mazuma Mobile will offer you a cash settlement for your device
eBay or Facebook Marketplace may make you the most profit, if your device is still in full working order
Everphone offers a company phone buy-back scheme, whereby we handle the recycling for you and offer you a cash value in exchange
Disposing of old company mobile phones
Data protection and security is the primary concern for businesses looking to dispose of old devices. Phones that have been used by employees are likely to contain a high level of sensitive company information and, even with sophisticated Mobile Device Management (MDM) software, this data could still be vulnerable in the wrong hands. For this reason, it is essential that you follow proper procedures when removing company data from the device.
Removing company data
There are a few key steps you can take to make sure your data has been effectively removed from your old phone before you recycle it.
Save all relevant passwords for accounts linked to the mobile phone
Backup your mobile phone, including all photos, documents, etc. onto another device or memory card – you may choose to do this using smartphone management software
Remove your SIM card and any SD cards
If you are using MDM software, disconnect and wipe the device from the central MDM hub
Reset the device to factory settings
If these steps are followed correctly, your data will be safe and secure and recycling your old phone won't pose a security risk for you or the company.
The Everphone solution to disposing of company phones safely
At Everphone, we use a Phone-as-a-Service rental model. If you're familiar with how this works, you'll already have some insight into how renting company devices can improve your business' sustainability score.
In a nutshell, renting reduces the number of old or faulty phones, tablets, and laptops that get discontinued and sent to landfill.
It's important to us that we are able to give you a solution to consistent, high-value company tech that fits in with modern sustainability concerns and therefore reduces the carbon footprint of the businesses we work with – rather than make it worse.
For this reason, every time a device is returned to us after a company has rented it, we first try to refurbish it and then re-issue it into the rental cycle, whilst following GDPR data regulations. If a device is too old or cannot be refurbished for other reasons, we recycle what materials we can from it, or send the hardware off for repurposing. This results in a huge reduction in waste materials. No usable device is ever simply thrown away.
What does sustainability actually mean for smart devices? Our white paper presents facts and figures on the production and usage of smartphones and tablets worldwide. Click for the free PDF download.To find out more about Everphone's Phone-as-a-Service rental programme, get in touch with one of our specialists
We'll buy your old company devices
If you're not already one of our clients, there's a good chance you will have pre-existing company devices that will need to be switched out and replaced with new ones.
The good news is that Everphone will buy your company devices from you.
This will mean you get to put that cash back into your budget for rental devices, your old devices won't just get thrown away, and you'll be free to upgrade your business tech in a sustainable way.
Sustainability doesn't have to be at odds with cutting edge technology; with Everphone, the two go hand-in-hand to boost your employer branding, keep your carbon footprint small, and impress your employees. We prioritise offering a great, reliable service that you can feel proud of, too.
Find out more about building sustainability into your business technology usage with our whitepaper.