Is it possible to dispose of old cell phone data safely?
Company service managers are concerned about the disposal of old company phones safely and responsibly. The main concern would be data security, protection of sensitive information and whether it can dispose of the cell phone data safely. Mobile Device Management (MDM) software can assist companies with employee authentication and access highly sensitive data remotely.
Should the company phone get stolen, lost or an employee leaves, they can wipe the data remotely. This makes it possible for all sensitive data to be removed from company devices before disposal.
Definition of MDM: "Mobile device management is the software-based management of mobile communication devices such as laptops, smart-phones, and tablets in a corporate context."
Why is MDM important?
In principle, businesses can use MDM to implement assignment models like "Choose Your Own Device" (CYOD) and "Bring Your Own Device" (BYOD) without any restrictions to other stakeholders or on the part of IT in the company. However, be aware that there are BYOD legal aspects in place and overall we would not recommend this strategy.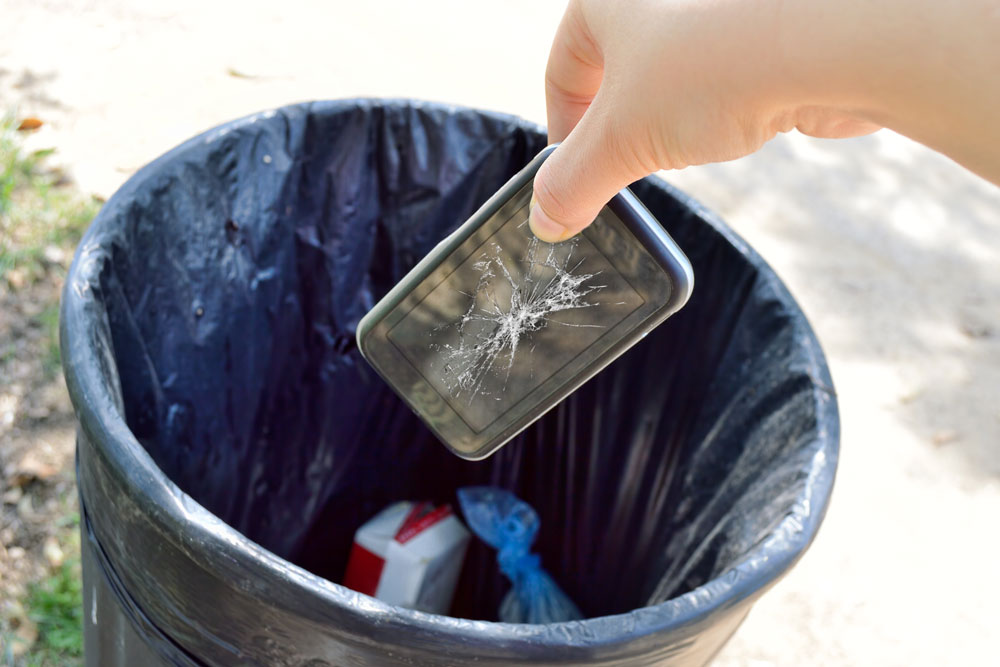 When employees can choose a device that they can use securely for both private and business purposes, they are more motivated and productive at work. With MDM, you can roll out policies, configurations, data distribution, access rights and more efficiently.
An MDM ensures that mobile devices that are usually designed for consumers can be used securely in a corporate context. MDM also protects against data loss and theft if the device is lost or defective. Costs are only incurred for ongoing mobile communications contracts and purchasing of hardware. There are also operating costs for setup, procurement and management also need to be taken into account.
The structural workload is lightened for specialists, especially IT, so smartphone fleet management no longer takes up their valuable working time. As a result, the time and effort required to procure, install, manage, and operate devices in a data-secure manner constantly increases the workload of the purchasing and IT departments. It quickly adds up to five working hours per device per year. As such it's important to use any tools, such as MDM software, to streamline the process and make it more efficient and less time-consuming.
How to ensure secure phone disposal?
You can't just throw out your old phone without it being hazardous to the environment. Old phones have nickel-metal hydride and lithium-ion batteries containing heavy metals like zinc, copper and cobalt, and lead and arsenic circuit boards, all toxic materials for our environment.
Therefore, companies would rather consider donating, selling, or looking into a secure phone disposal method that is more sustainable. The Environmental Protection Agency (EPA) is strict with hazardous waste laws that are improperly managed and pose a serious hazard to our environment and human health.
Where can you safely dispose of old smartphones?
There are various options available when it comes to recycling your old phone. It is important to do the necessary research to ensure that the place you choose can dispose of the smartphone safely. Places you could consider are the following:
Return the device to the original manufacturer.
Trade-in your old phone for a new one.
Donate it to your local charity organization.
Donate it to your local school or a community group.
Local electric (small) recycling spots.
Some curbside recycling points might accept electronics.
Take it to a technology outlet.
How does Everphone ensure secure phone disposal?
With Device-as-a-Service (DaaS), you can rest assured that Everphone takes care of all your smartphones and tablets. That also means we know how to dispose of old cell phones safely.
Should devices be returned to us, whether your company's private phone contract agreement ended or faults have been reported, we will safely delete and wipe all data from the smartphone.
Eraser software and data deletion certificate
This includes the usage of an "eraser" software to permanently sanitize data from smartphones and tablets. If needed by your company's IT security policies, we can provide a certificate for each device that has been wiped in this way.
The device will then be either refurbished or repaired to be utilized again. However, should this not be possible, the device will be recycled appropriately by Everphone and its recycling partners.
We ensure that faulty devices are replaced quickly and that the data of the defective device is wiped in agreement with the General Data Protection Regulation (GDPR), restored and available for a second lifecycle.
Sustainability is at the core of Everphone's Device-as-a-Service model, which allows your company to be environment-friendly without taking valuable time and resources from your employees. Therefore it avoids wasted technology, and devices don't end up in landfills. But that does not mean that we only recycle devices that are part of our rental solution.
We are happy to purchase any devices and replace them with newer models to simplify your transition to Device-as-a-Service with Everphone.
Here you find informations about company phone private use termination.