Why is renting an iPhone a great solution?
There are several reasons why renting an iPhone in England is a great solution, especially if you want to rent iPhones for work.
Save money with company iPhone rentals
The first reason will be lower costs of a rented phone than buying a phone or a leasing option. There are many business tariffs for mobile phones, notably if you as an employer want to rent more smartphones for your business. In addition to the splendid choice of phones you can rent in England, they usually offer only the best quality phones, and you can even rent Apple devices for an affordable price.
Organization and compliance
The second reason for renting Apple smartphones is that providers such as Everphone carry out all the necessary maintenance and updates on your phones and deal with your phone security.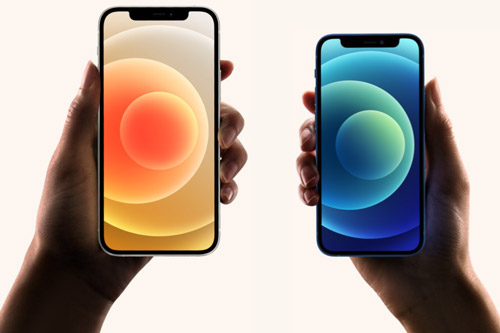 This means that they have such systems that save your data from your phone and delete it if your phone is damaged or stolen, or in any case when it's out of function. You really don't have to deal with that when you rent smartphones. Everphone integrates its rental iPhones and iPads with any given Mobile Device Management (MDM) software to allow for over-the-air operating system updates, enforced security measures and Mobile Application Management (MAM).
Reduce carbon emissions with iPhone rentals
The third reason for renting iPhones in England is that the Apple company has been working on enhancing their devices in a way that there won't be any CO2 emissions released by their phones and other devices. This means a better environment for all of us.
Refurbishment of returned rental iPhones
This leads us to the fourth reason we should rent smartphones. When your rented device has given all it can, you can simply hand it back to Everphone and it will be replaced with a newer model.
At the same time, Everphone will refurbish or recycle your old Apple devices after safely removing all your data. This has more benefits for our environment than we all can think of.
Moreover, phones and all IT gadgets are rapidly upgraded and enhanced, especially for business. The constant change of work phones just makes huge piles of unused phones, but phones which can be reused or recycled again will be given another lease on life. That's why renting is a better option for work phones. With the rent, you don't make piles of phones. With renting phones, you think about our environment.
So, all these reasons justify why we should start renting iPhones in England, especially for work. We must start thinking more about our environment and how our need for better technology affects the world around us. Next we will discuss the differences between renting and leasing an iPhone.
Is iPhone leasing better than to rent an iPhone in England?
When we talk about renting and leasing a smartphone, it's basically the same as when you rent or lease a car, apartment or any other thing that is on offer. However, in case you haven't done any renting or leasing at all, we will clarify the differences for you.
In both cases, it means that you don't own the thing: you rent or lease. You are just paying because you're using it, and when the rent or lease is over, return the item. You are not the owner of the product, only a temporary user of it.
So, what's the difference between leasing and renting smartphones? Actually, there are two main differences, and they are the length of the agreement and the cost/money you can afford. It's usual that when leasing an iPhone, the terms are quite fixed and not prone to change. Even if the device breaks or is lost, you'll have to continue paying for it until the lease period ends. Renting options are more flexible to your needs and options can be tailored to your needs. When renting a device, maintenance, repairs and replacements are usually included.
In other words, leasing an iPhone is a bit more expensive than renting an iPhone in England. That should be the top point for deciding whether to choose a rental or leasing option. Besides this, leasing takes up a lot more paperwork than the rental. You have to prove that you can afford the leasing, provide various business and financial documents and more.. Companies that deal with this make a rental or leasing plan according to your paying capabilities.
One of the things you should look for with these options is the possibility of an upgrade and maintenance of your rented/leased phone free of charge. If you rent a phone for work, you should look for companies that take care of that within the set fee you are already paying for them. Moreover, look for those companies that can protect your data from any possible harm and damage. We at Everphone are at your service if you want to rent iPhones for work.
Why should you rent iPhones in England at Everphone?
Everphone has been supplying businesses in various countries with affordable device rental plans. Their services don't just include procuring the best devices and mobile deals, but also setting up MDM software, installing the necessary apps and security measures and deploying the devices to your staff. Here's a list of some of the reasons why you should choose Everphone for renting smartphones:
Rent iPhones in England at Everphone because we care about our environment
Flexible rental budget
Several rental smartphone options
Rented phones are recycled or refurbished after no longer in use
Any maintenance and upgrade is without additional costs
Rent iPhone with the secure MDM (Mobile Device Management) system to protect your data
Rent iPhone at Everphone because they have zero CO2 emissions
Offers include Choose Your Own Device (CYOD) and Bring Your Own Device (BYOD)
We facilitate private use of work phone with the MDM system
Tax benefits with Apple rent
Flexible returns
Secure data protection in case of phone damage and theft
What is the flexible rent of smartphones at Everphone?
We at Everphone, are serious about our offers, and we take care of our clients. First of all, when we say a flexible rent, we really mean it. It's flexible in a way that really suits your needs. All you need to do is fill in our form to get a quote proposal from our team based on your unique needs.
Our rental fees are affordable for every budget, but we offer only the best phones and devices for work. We are here to help you with your work phone. We cooperate with Apple, Samsung and many other service providers, and you can rent any Apple device for your company if you prefer its gadgets.
When you rent a smartphone at Everphone, you don't have to worry about the phone's maintenance. Even if you want to rent an iPhone in England, our team is at your service. Moreover, once you set your company's phone budget, it won't be exceeded. Every procurement, upgrade, and change is already included in the convenient monthly fee.
Moreover, your employees don't have to worry about losing your important business data. With the MDM (Mobile Device Management) system installed on the phones, your data is 100% protected. This MDM system can also be installed on the phone you and your employees already own. That's why our renting smartphone system is 100% flexible, and it's individually suited to our client's needs.
This means a more stress-free working environment for you and your employees. With this renting option and MDM system comes agreements for using work phones for private purposes. This means that those phones can be safely used outside work thanks to this system which functions as dual software on one single phone. At Everphone, a phone is not just a simple device, it's a service that enables work, and that's where we can help you.
Why is it better to choose the "device as a service" option when renting iPhones in England
When you rent a smartphone at Everphone, you get this "device as a service" option. This means that our IT team provides you with any service you need for your phone. We rent iPhones in England, we do all the mobile service for you. Everything is done online. Your precious time is saved. You don't need to do extra hours to fix your work phones. We all know how important work phones are.
You can choose rental options that suit your needs. There are options in which employees can pay the rent if they want phones that exceed your budget. You can even "rent" your own phones. We treat them as if you just rented them from us. The service stays the same. Even in this case, we can take it for recycling and refurbishing, and you can get a better phone. We help you to have zero electronic waste.
What's more important to mention is that you don't have to pay the rental fee when your employee leaves your company. All that is to be done is to return the phone so that we can retrieve your business data and safely remove it from the device, and then recycle or refurbish it, depending on the condition of the phone in question.
You wonder how all this is impossible. Thanks to our Mobile Device Management System (MDM) that functions as dual software on one single phone. One software is for work, and the other is for private use. Data can't be transferred to other software at all. This protects your business data from all possible harm and damage. All this is possible when you rent smartphones at Everphone.
This is the best option when there is a need to retrieve business data from an employee's phone. All other solutions may not be compliant under GDPR (General Data Protection Regulation), but MDM is, thanks to its dual software. This means that when you access your employee's work data, the employee's private data is untouched and completely safe from any harm and damage in this case.
Moreover, this MDM system and all apps needed for work can be installed in any rental options we offer at Everphone. It's only up to you to see which phone rental option is best for your company's needs. We lighten your workload related to work phones. All that you as an employer can do is to contact us, and we will find the best solution for you.
Conclusion
Renting iPhones is trending this year, not just in England but in the whole business world. Every day, more employers opt for renting phones for work because it facilitates their business. Rental companies offer splendid offers, including any procurement and maintenance within the rent fee. Also, they take care of your system safety and data protection, and everything is done online.
On the other hand, it's a good thing for our environment. Everphone recycles, and refurbishes phones after the rent expires. Those materials are reused for new phones. With recycling and refurbishing, there is zero waste of old phones. Renting a phone is really a good option every employer should consider, especially because employers and employees can't lose their precious work time on dealing with phone issues.