Phone cases and screen protectors have become a necessity if you want to protect your device from scratches, cracks, and damage from falling. We've all dropped our phones at one point or another and experienced a mini heart attack when we inspected our phones for damage.
A high-quality smartphone cover can protect your device and limit the damage. However, these covers are usually made from cheap, polluting plastics. So, how can you protect your device and the environment simultaneously? The answer is getting sustainable smartphone cases from Pela and other eco-friendly providers.
What is a sustainable smartphone case?
A sustainable smartphone cover is specially designed to provide device protection without impacting the environment. Many modern cases are made with plastic, and once they're thrown out, they end up in landfills, where they take many years to break down.
These phone cases also have other negative effects on the environment. Collecting the materials and making the plastic cases takes a toll on the environment. Working with the plastic, heating it, shaping, and cooling also emits pollution into the air. When you consider the number of cases mass-produced in factories, you can be sure their carbon footprint isn't small.
With more individuals becoming aware of the environment and our responsibility to protect it, sustainable smartphone covers from Pela and other eco-friendly providers are a great option to get the protection your phone needs while still respecting the environment.
More about the sustainable smartphone case from Pela
Pela is a brand that prides itself on their eco-friendly products. They create phone covers and also feature sustainable sunglasses, as well as other accessories.
Since they are involved in creating sustainable products, they noticed the effect that modern phone case providers were having on the environment. As such, Pela set forth to create the first 100% compostable phone case. They've quickly become one of the best-known names when it comes to sustainable phone covers.
Not only are the sustainable smartphone cases from Pela compostable, but the production also emits 30% fewer carbon emissions, uses 34% less water, and produces 80% less waste than their competitors who make plastic covers.
Also, don't think that you'll end up with a drab-looking cover by going for a sustainable phone case. Pela's covers come in a wide range of colors and styles. This means there's truly something for everyone in their lineup. While they may be slightly expensive, with the range of options to choose from and the benefit to the environment, they are well worth it.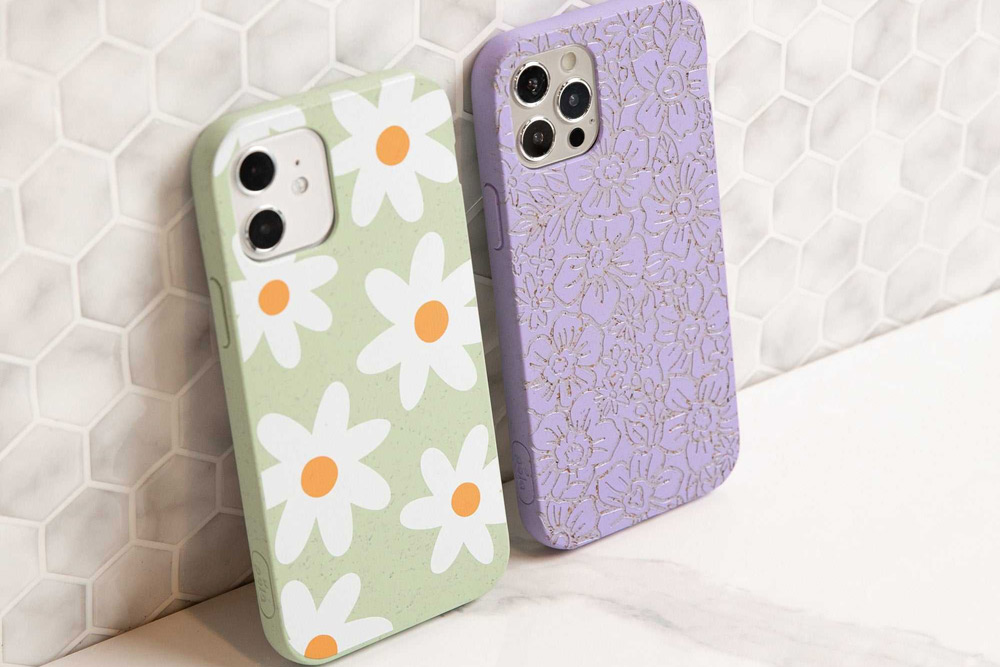 Are they as effective at protecting your device?
One of the biggest concerns many have when considering an eco-friendly phone cover is whether it'll provide the same amount of protection as a plastic counterpart. The answer is yes. There are different types of sustainable cases, such as compostable, plastic-free, and recyclable. These cases are usually made from the following natural products:
Cork
Bamboo
Wood
Flax straw
These products are already fairly strong, but once compressed and made into a phone case, they can offer the same amount of protection as many plastic cases without the negative environmental impact.
Other sustainable smartphone case providers
While Pela is one of the most renowned providers of sustainable smartphone covers, they aren't the only company. There are other providers as well. Let's take a look at some other options for sustainable phone covers.
Sustainable mobile phone covers for Samsung and iPhone
If you're looking for a mobile phone case that's sustainable for Samsung and iPhone products, here are a few options to look at:
Pela: 100% compostable, wide range of colors and styles; free of lead, BPA, and phthalates
Reboxed: plant-based cover, compostable and plastic-free, multiple colors
Wave: Reasonably priced, biodegradable
CASETiFY: military-grade drop-proof, customizable, zero toxins
Tech21: beautiful modern designs, good drop protection, biodegradable
Other ways to protect the wnvironment
If you're wondering what else you can do with your mobile device to help protect the environment, there are a few options. The first one is to recycle your device once it reaches the end of its lifespan.
Many of us keep our old devices stored in a box somewhere or just throw them away in the regular trash. These devices end up lying in the landfills for many years, potentially polluting the ground and water runoff. So, next time you want to dispose of your phone, choose to recycle it instead.
Some phone as a service (PaaS) providers, like Everphone, offer business device and phone rental options. Part of their service offering is that devices that are no longer used can be returned in exchange for a different device. The old devices are then refurbished to be used again, and if they can't, they're recycled responsibly.
Another option is to consider buying a sustainable smartphone as your next device. Brands like Fairphone create sustainable smartphones with all the modern features we've come to love. Not only are their devices created with the environment in mind, but their covers, such as the Fairphone 3 case, are sustainable. 
Final thoughts
Sustainable smartphone cases from Pela, Reboxed, and Wave are the way of the future. In order to protect our environment, we need to think about the devices we use. When it comes to protecting your smartphone, an eco-friendly phone cover is the best solution.