Mobile phones are a necessary corporate resource for employees to complete digital tasks. Smartphones have revolutionized the way business is conducted with efficient communication and convenient sharing. However, technological progress is fast and smartphone lifecycles are short.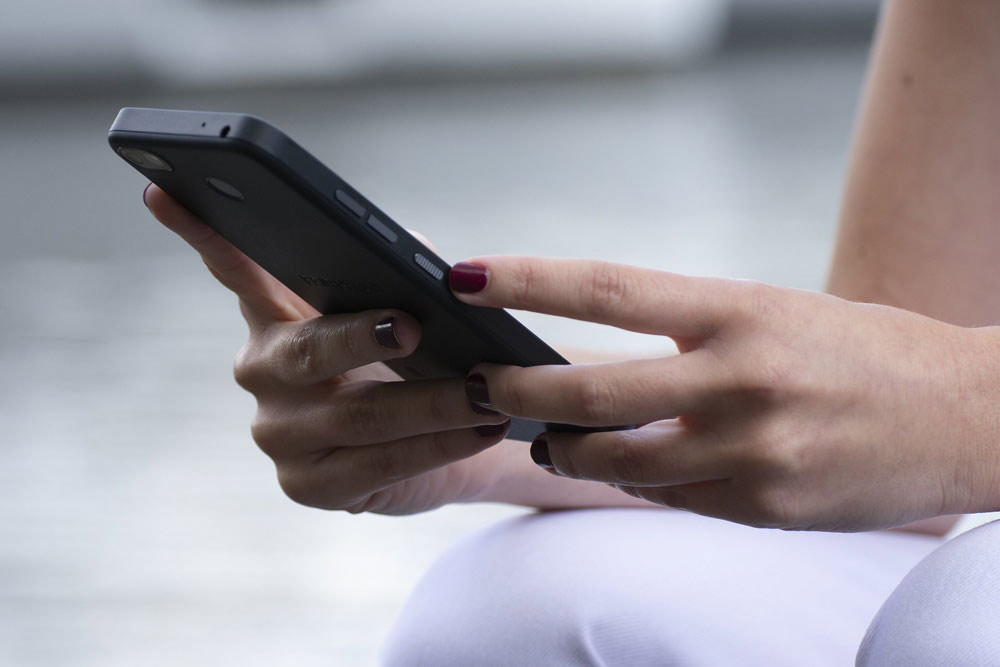 There are more sustainable ways of managing smart device usage than simply buying a number of smart devices to later just take them out of operation and letting them sit in some IT department drawer.
Extended service life of sustainable smartphones
Every manufactured product has a carbon footprint, the total amount of carbon dioxide (CO2) it emits. According to a study conducted by McMaster University in Canada, the CO2 emissions of smartphones have surpassed the carbon footprints of laptops and PCs. The energy consumption of smartphone production and the end of its life as e-waste contribute to global CO2 emissions.
Reducing emissions and resource consumption
The technological advancements and short life spans of smartphones mean that most people buy new smartphones more regularly and forget their old ones in the drawers somewhere in the house.
In principle, there is only a handful of options that might make the smartphone as an overall product more sustainable.
reduce carbon dioxide emissions in production and transport
reduce number of smartphones needed
facilitate repairs to extend product lifetime
extend operating system support
re-use metals and other materials
recycle unused phones to a much higher degree
promote modular product concepts such as the Fairphone
raise consumer awareness for sustainability issues
Sustainable smartphone initiatives
Fortunately, sustainable smartphone initiatives have noticed the impact smartphones have on our environment. A lot of stakeholders and ideas are involved here, we're just going to name a few.
Phone manufacturers
Smartphone producers such as Apple, Samsung or Google have realized that consumers want sustainable products. All major mobile manufacturers therefore have initiated sustainability initiatives in one form or another, ranging from less packaging over trade-in programs to recycling robots.
Apple recycling robot
Phone repairability
One major problem is that modern smartphones are not very easy to repair. Many of the components are glued to keep the design slim and the weight low. Thankfully, manufacturer's such as Fairphone offer gadgets with a modular build. If one component breaks or goes out of date, users can exchange this modul easily.
Circular economy
For one person, the iPhone 8 is out of date – for the next it's a perfectly fine phone. Circular Economy initiatives strive to refurbish and remarket already existing phones to dramatically extend their service life. Because the longer a phone is operating, the better for the environment. Mike Berners-Lee, an expert on CO2 emissions, reported that global smartphone emissions are about 1% of the world's emissions. This startling number can be reduced through the circular economy of smartphones; old phones are taken, refurbished, and put back into circulation.
Subscription economy
Instead of owning the devices, people might prefer a demand-driven subscription model. If the device is no longer needed, it will be handed back to the rental provider, it'll be refurbished and remarketed. This is exactly what Everphone does with company phones.
Circular economy and sustainable company smartphones
The circular economy of sustainable smartphones is an environmentally-focused strategy to minimize the impact of smartphones on the natural environment while making smartphones more affordable for users. Organizations need to procure smartphones for their employees in today's corporate world, which can be a lengthy, complex and expensive process.
The refurbishment of smartphones in a circular economy increases the smartphone's overall service life, reducing procurement costs while protecting the environment one mobile phone at a time. Everphone is dedicated to creating a service focused on the circular economy to make the procurement of smartphones and tablets convenient and sustainable.
Everphone's phone-as-a-service provides your organization with all the necessary smartphones it needs with a rental agreement. This allows your employees to use the adequate smartphones required to fulfill their duties.
Once the rental agreement has ended, Everphone repairs and refurbishes the devices which another company rents. Then, they're returned after the rental agreement, where they're either refurbished once again for circulation or properly recycled.
This circular economy allows businesses to procure sustainable smartphones in a simple process that cuts out all the intermediaries, which saves you valuable resources and money. In addition, the recycling of phones reduces the energy consumption required in the production process and minimizes the potential e-waste in the world.
Benefits of circular economy for smartphones
Here are some corporate benefits on offer from the circular economy:
Promotes the sustainable use of smartphones.
Increases the lifespan of a smartphone.
Decreases the carbon footprint of every smartphone.
Reduces the number of smartphones in circulation.
Businesses don't have to purchase hundreds or thousands of smartphones.
If a mobile device breaks, Everphone provides a new device.
You can offer sustainable phones to your employees, too
The procurement of corporate mobile phones for employees is a reality for organizations. Smartphones that are sustainable are an essential resource within an organization, but the global use of smartphones has increased CO2 emissions and e-waste. Sustainable initiatives like Everphone offer smartphones a second chance to circulate again and reduce their carbon footprint while also maintaining privacy on mobile phones.
For organizations that need to procure sustainable smartphones, Everphone provides a simple procurement process and takes care of your smartphone's lifecycle so that it doesn't have to end up in a drawer forgotten. Take the initiative to rent a mobile phone the smart way.