Most employees value being given or offered a work phone by their employer. The potential benefits for both you, as an employee, and your employer are numerous. Ultimately, they promote collaboration, access to company systems, and a keener focus on security.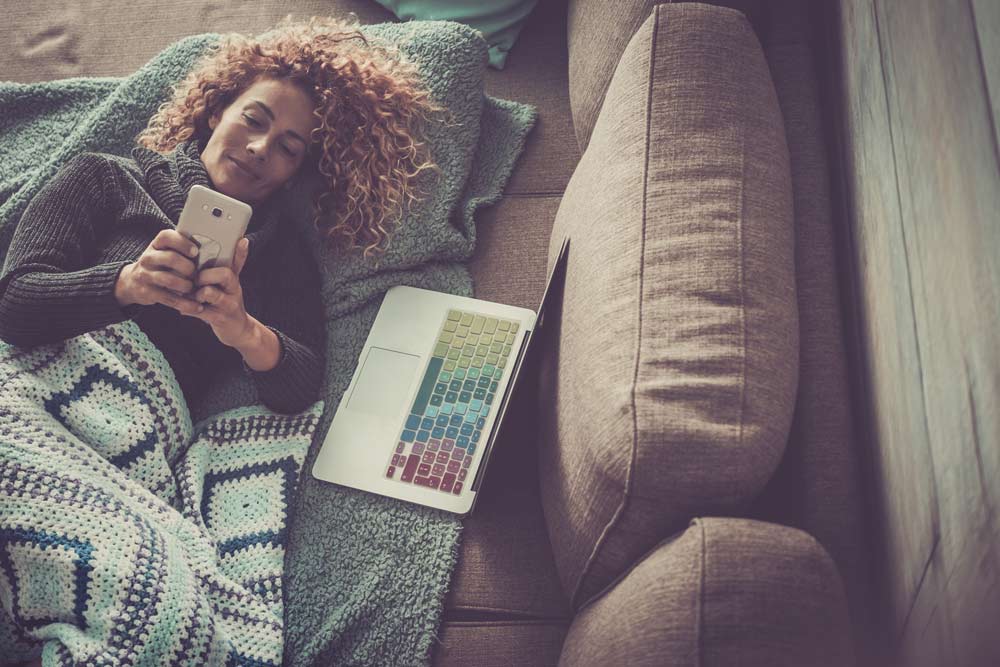 Keeping work on the work phone!?
For some, a work phone is an opportunity to keep your work and personal life separate, so private use on a work phone is not a concern. You can turn your work phone off outside work hours and know that unwanted messages can't creep back in without your consent.
However, for others, a company-issued phone is considered a perk of the job. It can be vital for agents who work in the field, or those who need to maintain contact with colleagues professionally even when they're clocked out. It can also be an opportunity to save money, upgrade your tech, as well as improve work performance, by using it as a personal device too.
Phone as a benefit
For employers, issuing company phones is an opportunity to sharpen their positive employer branding, creating a more generous image of themselves amongst their staff, as well as to encourage better working practices. As 70% of employees keep their phones where they can see them throughout the workday, that device will benefit from being a company-owned, company-focused phone.
82% of IT Executives agree that company smartphones are considered highly important to employee productivity. So, as an employee, they can be a fantastic way to take greater control of your workload, manage tasks more efficiently, and stay in the loop even when working from home.
Benefits of using your company mobile device for personal use
Agreeing to use a work phone has a number of benefits to you and to your employer. Using it as your primary phone, for both work and personal purposes, can also be beneficial. Find out why here:
Saves money
Signing up for a company device often means that your employer will pay the entirety of your monthly contract cost and the complete initial device price. As a result, you will not have a phone bill to pay, which saves you money every month. It is worth, however, clarifying with your employer what is included in your package and who will be liable for any costs incurred if you go over your data, texts, or minutes allowance.
New devices
When issuing devices, many businesses will choose the latest iOS or Android devices as it gives them access to the latest in productivity software and means they will likely last longer before they need updating. As a result, a work phone is a great way for employees to get the latest mobile phones without paying for them personally.
Bring-your-own-application (BYOA)
As more and more businesses invest in developing their own apps to solve problems or streamline workflows that are specific to them, company-issued work phones can be an effective way of ensuring that all employees use them. BYOA can be easily implemented company-wide via mobile device management software. This can be important as an employee in terms of staying up-to-date with company developments and maximizing productivity. Using company-designed apps means you're less likely to miss crucial updates, even when you're away from your desk or in the field.
Improved security
Mobile device management comes with increased security concerns for companies. As a result, security on company devices tends to be much more effective than on personal devices, which ultimately protects both you and your employer, and will automatically protect against potentially risky downloads and websites.
Updates for apps and operating systems can also be rolled out automatically from the central mobile device management system, which means that employees don't have to worry about missing security updates. For employees using work phones for personal use, the security protocols issued by your employer may be a great opportunity to get clued-up on best practices online and with mobile devices, even outside work contexts.
Risks of using a company phone for personal use
Though there is a range of benefits to using your work phone for private use, it's worth familiarizing yourself with the risks to you and to your employer before you begin setting up the device.
Returning the phone
It is critical to remember that once your employment ends, you have to return the device to the company. If your employment is terminated suddenly, you may not have time to back up and remove your personal data, including photos, texts, and contacts, before the phone must be returned. For this reason, it is recommended that you always backup your information.
Note: With Everphone rental devices, we can offer you the option to buy your company phone off of us when leaving the organization.
Data wipes
Employers often don't have to give their staff any warning before remotely wiping company devices. If there is a storage issue, a mobile device management software upgrade, or there has been a suspected hack, employers may wipe all company devices instantly. Again, we would always recommend employees back up their personal devices.
Company privacy violation
One risk in backing up personal information from a company device is that it could be possible to also back up company data that should not be shared or stored anywhere other than the company device. If private company data still exists in the back-up of an employee who has since left their employment, the company may decide to take legal action. Employees may unwittingly commit data theft if they are not careful with device data when outside the workplace.
Company information vulnerability
By issuing devices to employees, companies make themselves more vulnerable to malware attacks, ransomware attacks, and information leaks. Individual employees may download apps or files that have malware or ransomware attached, which could lead to hacks, data breaches, and loss of revenue. While this is a risk weighed by the company itself, not the employee, it is generally combatted with enhanced security regulation and tighter restrictions on app downloads and lists of restricted websites.
Employee privacy violation
Different companies may enact different levels of device monitoring. Most employee monitoring is used for positive reasons that are ultimately beneficial to employees, too: to track potential security breaches, detect sexual harassment, and derive productivity analytics. But, to do so, a wide range of data needs to be collected. In most cases, employers cannot read personal emails or texts (unless they pass through a central company server) but will track call and web search history and may even record phone calls or review voicemails. There are also extreme instances when tracking software in company devices allows employers to view private social media accounts and monitor tweets, Instagram posts, and more.
Learn more about work phones:
Check your company private use agreement
Company policies vary on private use of work phones. If your work phone is issued by your employer, it will be either corporate-owned, personally enabled (COPE) or corporate-owned, business-only (COBO). This alone will tell you whether any form of private use is allowed.
Most companies are happy for employees to use their work phones for personal purposes, but may enforce restrictions on apps and/or track mobile data and usage. It is essential that employees taking on company phones familiarize themselves with the specific policies of their employers, and ask the right questions, to ensure they know what data will be tracked by the company and how vulnerable their photos and contacts are to unexpected deletion.
Choose your own device (CYOD)
A popular compromise is CYOD, wherein employees can choose their own devices and their employers will contribute towards the monthly costs. This ensures that your data remains entirely private and untracked, gives you access to newer tech for a fraction of the cost, and allows you to keep the device should your employment end. However, you cannot benefit from the improved security offered by your company's mobile device management software and will still have to pay for most of your contract yourself.
How do employers mitigate security risks?
Employers can mitigate the risks of allowing private use on work phones in several ways:
Issue a mobile policy with each device that outlines acceptable device use and what tracking software will be running in the background. We recommend reading this policy before you use your company device.
Implement robust authentication for device access, including long passwords, PINs, or two-factor or biometric authentication.
Restricted access to public/open Wi-Fi networks to minimize the risk of hacking.
Can I use my work phone for private purposes?
In short, the specifics of your agreement need to be discussed with your employer. The benefits may outweigh the risks if you are looking to make use of a new device and improve your productivity. The key, however, is being aware of the security risks to both you and your employer, and taking sensible steps to mitigate them, using the advice above.