Are you aware of what the GDPR states on employees' usage of company devices? Mixing personal and work matters on the same device is a risky move. Employers should create a guideline for private use and a work phone agreement signed by both parties to ensure both the company and employee is protected.
Let's discuss how to figure out whether you should use your work phone for personal use. What to do if you need to, and how to keep yourself out of trouble.
The first step towards ensuring that employees are using company phones appropriately is to make them sign an agreement on the private use of a service smartphone that discusses the rules between an employer and employee to avoid work termination.
In this article, we'll explore a clear set of rules for the usage agreement for a company cell phone in the workplace.
Private Use of a Service Cell Phone and GDPR: Preventing Work Termination
As the world becomes increasingly digitized, it's important to remember that data security is a real concern. The General Data Protection Regulation (GDPR) has many implications for companies, especially ones that have employees who use company devices for personal use. If you are unfamiliar with the private use of a service cell phone and GDPR, it is a European Union law requiring companies to protect their customer's data while also respecting the employees' right to privacy.
Let's discuss how to figure out whether you should use your work phone for personal use. What to do if you need to, and how to keep yourself out of trouble.
Employers
If you're an employer, you probably have employees who use company cell phones for personal reasons. Misusing company cell phones can be a problem if employees use the phones for private use during working hours. It can also be a potential security risk if the device is lost, stolen or if the employee uses it irresponsibly, such as connecting to public wifi frequently. You may want to discourage certain practices, but it's not always easy.
Employees
Employers may provide a work phone for each employee, but this will count as a perk and not part of the employee's salary. The private use and work phone agreement is between the company and you, the employee. It covers your use of the work phone and the personal device your employer gives you for work purposes.
If you're an employee using a company-issued device for work and personal use, you must protect your phone's data. You don't want your employer to terminate you because of something they find on your phone. There are ways to manage this situation and ensure that your business data stays safe and secure.
Regarding phones and other mobile devices, there are two types of security: physical security and software security. Physical security is the protection of the device itself, including passwords and encryption. Software security is the protection of data stored on the device.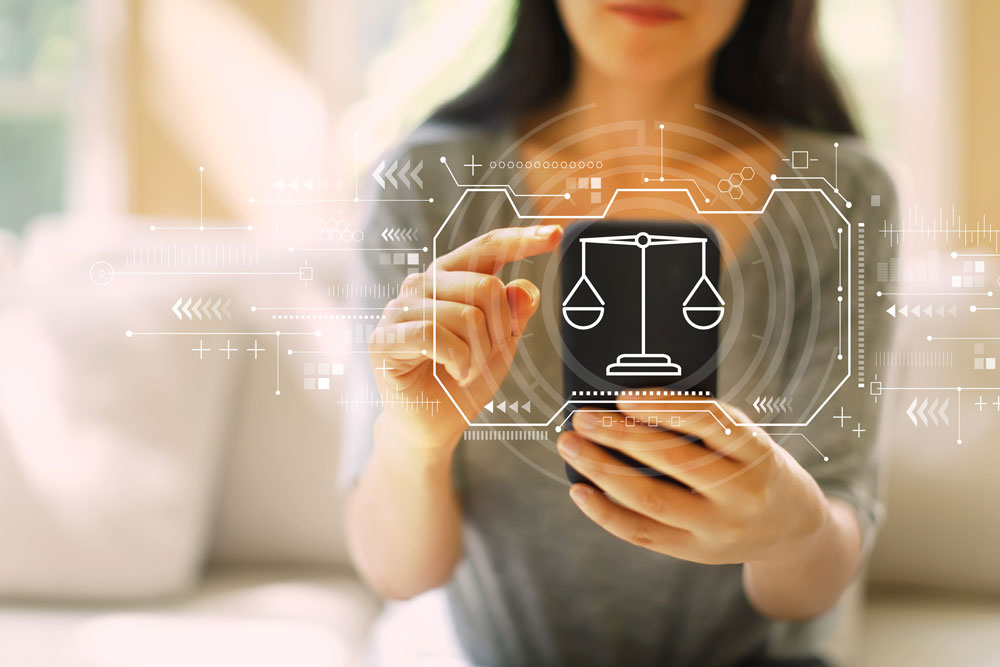 How to mitigate potential problems when using a work device for private use?
Let's take a look at some of the solutions businesses can consider to limit the potential threats to company data when issuing a work device for personal use.
Container Apps
One way is through the use of a container app. This app lets you separate business data from private data so that even if your employee uses the phone for personal reasons, it won't affect your company's ability to access or manage business information.
Container apps are available on most major operating systems and with almost every manufacturer. They allow users to separate their work from their personal lives by creating a "container" around all their files while using the device at work, then moving everything back into one folder when they go home or on vacation.
A Device as a Service (DaaS) with MDM
Container apps aren't always compatible with all operating systems or manufacturers. They can also be rather limited in their functions. It might not work well with your phone system. If this is the case with your company's devices, you might consider renting phones instead of buying them outright through something like Everphone's Device as a Service (DaaS).
With the DaaS service, users can rent phones for a business with MDM (Mobile Device Management) software pre-installed. It separates business data from private data and functions as two software on one single phone. MDM ensures the security and privacy of company data.
You can use MDM software to configure your employee's phone apps. It also allows you to enable or block certain features in the software used only for business purposes. Your employees can still download all their favorite apps for personal use and it won't intermingle the contacts, files or other data. These features mean employers won't have to worry about data protection when employees use their phones for personal reasons.
Private Use and Work Phone Agreement: Benefits of MDM Software
This section discusses MDM software's benefits for private use and work phone agreement. Let's face it: managing your employees' mobile devices is no small task. With MDM software, you can manage your employees' phones from a single place. It can make it easy to keep track of your company's devices and ensure they're all secure.
Employers can use MDM software to lock or remotely wipe a lost or stolen phone remotely. You can also prevent anyone else from accessing your company's sensitive information. If one of your employees loses their phone, you don't have to worry about sensitive data that will end up on the internet by someone who finds it. You can wipe it clean remotely.
Dual software allows you to separate business and personal use on your employees' phones. You can easily manage which apps they have access to at work and which ones they use in their free time.
In the case of termination, it's possible to extract only business data from a company mobile phone onto a corporate device. This feature makes it much safer and easier to get rid of a personal device than trying to delete all your personal information manually. This feature protects the employee and the business by ensuring no access to confidential information remains after an employee leaves.
GDPR compliance of MDM software helps ensure that all data on an employee's phone is properly protected under GDPR guidelines.
MDM mobility solutions are available on Android and iOS platforms so that you can track all employees' devices (BYOD or CYOD), even if they use a personal device like an iPhone or an Android phone.
Settings such as data distribution, configurations, policies, and access rights on employees' phones for work allow you to control what apps your employees use, where and when they use them, without having to manage each individually. These settings allow employers to customize what kind of information they will share with their employees.
One of the most important benefits of MDM software for employers is that it allows them to arrange private use of service cell phones. This way, employees can use their phones for personal purposes during their free time. Employees will not have to worry about their employer checking what they are doing on their phones.
It also makes it easier for employees to contact customers or clients after hours or on weekends when needed. Employees can feel comfortable that their employers won't infringe on their privacy.
Legal Agreement on the Private Use of a Service Smartphone
The private use of a service mobile phone is a sensitive topic, especially concerning the General Data Protection Regulation (GDPR). What's more, the private use of company phones can have legal consequences if the employee does not follow the rules set forth by their employer.
Employers will ask employees to read and sign a private use and work phone agreement to maximize efficiency and productivity at work and to avoid work termination. It will provide a framework for using company phones and mobile devices in the workplace.
The agreement should include:
A statement about how employees may use their phones for private use: this written statement can include stipulations about how often they can access their work emails and phone calls during non-work hours, etc.
It includes what kind of apps employers will allow them to install. It will contain what type of content employees cannot access on company devices during non-work hours (e.g., pornography).
This document should include details about how much time they can spend on personal daily calls. It will also include what type of apps employers will allow the employees to use, like Whatsapp on their service cell phone.
It should also specify whether they can take pictures with their service smartphone and store them in their cloud storage service accounts such as Dropbox or Google Drive.
The document should also clearly state what personal devices employees can use on company premises during work hours. Employers can consider the misuse of company devices by employees a fireable offense under such circumstances (e.g., sending inappropriate messages or photos).
The document should also include a clause stating that if an employee leaves their job or is instantly fired, they must return all company property, including cell phones and any data saved.
The employer should explain to the employees why these regulations are in place—for example, the consequences of disobeying these rules (e.g., termination).
If an employer chooses not to draft a written agreement for their business, they risk losing valuable data due to unauthorized access or theft.
Final Thoughts
Regardless of the platform, MDM software will help you keep your mobile phone safe from the prying eyes of undesirables. It will also help you and your company or organization in various ways that can be much more important than stopping unauthorized access.
It can help decrease costs and increase efficiency through better device oversight. It also streamlines the onboarding process for new employees, which makes it a very useful tool. Anything that makes a business more efficient and cost-effective will be worth it, even if it involves little paperwork.
MDM software helps you to manage your device and its content. It's a great way to set the tone for how your company wants to handle employee electronics and digital interactions at work. Discussions about the private use and work phone agreement can provide more details about expectations, like how employees will manage their devices within your policy. Use these two tools to maintain clear boundaries between work and private use.