A company providing employees with work phones isn't an altogether new concept. However, providing company phones for private use and business is becoming more commonplace. In many cases, the use of mobile devices for work is now somewhat of a requirement.
Employees can use mobile devices to enhance their productivity, improve communication, check client emails, respond to colleagues' questions, and more. But, is it a good idea to allow employees to use work devices for private matters?
Do Employees Use Work Smartphones for Private Use?
The reality is that many employees are probably already using their devices for work matters in some way. And those employees with work devices may occasionally use them for private matters, especially if there isn't a specific policy that dictates the rules of company phones for private use. This can lead to a number of issues regarding privacy, security, and more.
The phone remains the property of the company. If you leave the company, you'll have to return the device. In some cases, the company might remotely format the entire device when you leave without providing employees a chance to back up their data.
Private Use and Data Security
Because of the increase of security breaches due to unprotected mobile devices, it's become critical that businesses have a clear outline regarding their mobile device policy. Whether they let employees use their phones for business (BYOD) or if they provide company-owned devices (COPE), there have to be clear rules, guidelines, and security measures in place.
Using a reliable PaaS provider that also offers mobile device management (MDM) to comply with GDPR (and similar regulations, e.g. various state regulations in the USA) means that you can get good quality smartphones at the best possible prices. Because the MDM is GDPR compliant, you know your business data is safe.
Benefits Of Allowing Company Phones for Private Use
Since many businesses already allow their employees to use their own devices for work, some miss out on the benefits of buying business phones and allowing them to use company phones for personal use. Changing the system can be daunting, and it may seem like a massive initial expense and management dilemma.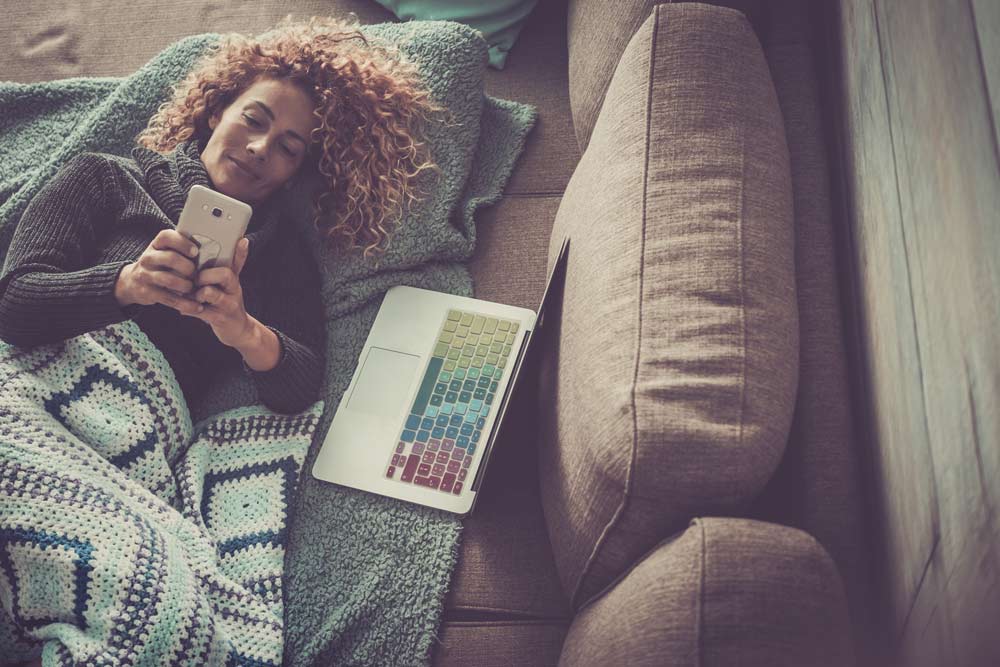 However, if you consider that data breaches are becoming more frequent, and personal phones can make ideal entry points for hackers to your business's systems, perhaps getting work smartphones for private use isn't such a bad idea. Private use work phones have the following benefits:
Compatibility of devices and OS as the business can decide on devices
Reduces company mobile phone costs as buying in bulk always comes with better prices.
24/7 access to the employee when you need them
GDPR compliance is easier to manage through MDM and data separation on company mobile phones
Motivates employees by providing perks such as a new smartphone that can be used for work and personal matters
Increases productivity by providing suitable quality devices with pre-installed business-required apps
Improves internal communication through the use of shared apps installed on business devices
Considerations When Allowing Private Use Of Company Smartphones
Deciding whether or not to allow employees to use a company phone for private use is a decision that should be made carefully. While the benefits far outweigh the disadvantages, there are still important considerations that have to be taken into account. Let's take a look at a few of those considerations now.
Liabilities
If an employee uses a work device and a data breach occurs, who is liable for any damages? For example, many apps collect data, and if an employer uses one of these, it could create a vulnerability. Using a work phone for WhatsApp, Facebook or Instagram can open up the device for infiltration. However, who would be held responsible?
Although this is still a very gray area, in most cases, it would be the employer, unless the employer can prove that they placed all the required security measures in place to avoid any data breaches or that they have a contract that specifically bans the use of certain apps.
Another potential liability that employers should be aware of is the employees' privacy. If a company allows a work device to be used for personal matters, that does not mean their business can access private messages, emails, photos, etc.
This is one of the reasons why the GDPR came into place. A great way to avoid this from happening is data separation. This creates two different profiles on the same device, one for work and one for personal. Folders, files, and apps on the personal profile will not be accessible on the work profile and vice versa.
Regulations
As a business, you'll have to consider how all relevant regulations, such as the GDPR, will be met across all business devices. This can be a massive undertaking for your IT team, but it is critical. There are PaaS services available that not only provide phones but also MDM services that ensure GDPR compliance.
Taxes
Another consideration worth looking at is whether you can get work mobile tax reductions. Companies who buy smartphones and mobile plans for the business and its employees can claim back taxes for the total amount of the device's cost and the mobile plan.
This can make a significant difference to the bottom line of any business. It may even be more worthwhile than compensating employees for using their own devices, even if the employee offers, as the claim back is not as significant as procuring devices needed for the business.
Final Thoughts on Using Your Company Phone Privately
In the end, allowing your employees to use company phones for private use has many more benefits than negatives. However, providing company devices that can be used for personal matters has to be thought out and not rushed. Businesses need to ensure they have the right MDM in place so that there is data separation to split the business use from personal use and that GDPR and other security regulations are met.