Anyone who deals with mobile device management will also come across the term "COPE" at some point. But what is it all about? How does a company benefit from a COPE model? And why is it useful to have an MDM software in place? In this article, we want to take a closer look at these questions.
What is COPE? What is MDM? – A quick overview
At Everphone, we specialize in providing corporate clients with modern smartphones and mobile devices. During our consultations we are often asked what COPE is all about.
The term "COPE" stands for "Corporate Owned, Personally Enabled". This means that a company provides its employees with a mobile device that is also suitable for private usage.
The main advantage of this variant is that the team is also able to use the cell phone privately, not having to switch between two different mobile devices.
The given device may or may not entail a phone plan. What it must include, is a clear and consequent separation of private data from company data. And this is where an MDM software comes into play.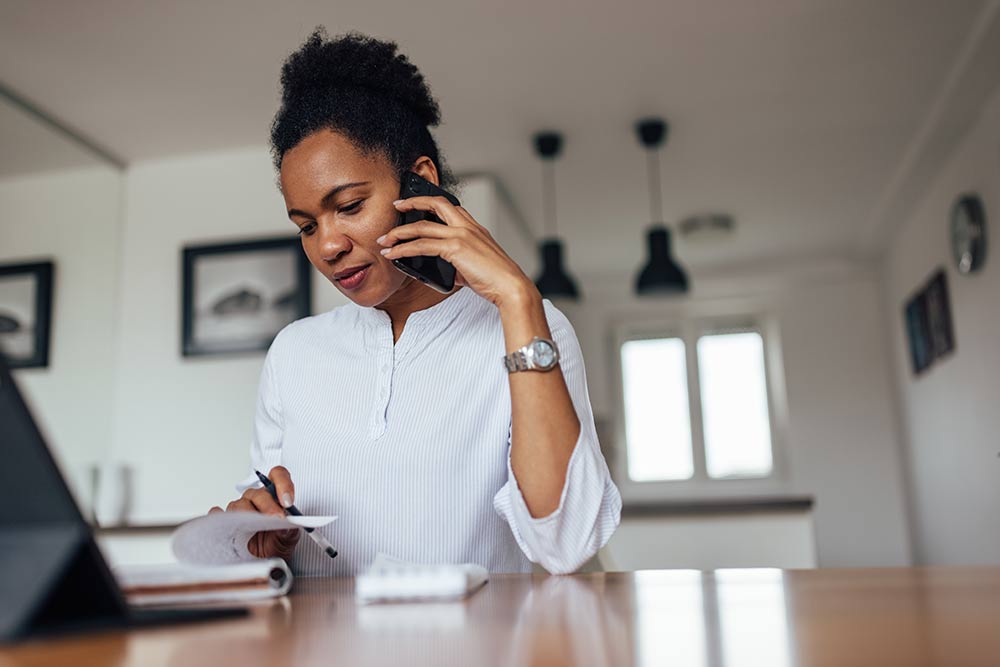 MDM and COPE: This is how they make sense together
Research has shown that providing mobile devices for personal and business use creates additional incentives for employees. This leads to better motivation and an improved commitment and is frankly an excellent benefit.
But aren't there lots of issues in terms of data privacy and data security? Wouldn't it be necessary to separate the private and the business data on the given smartphone?
The answer is clearly yes. However, this can be easily achieved: By using an MDM software. The MDM creates a "container" on the phone. This is an encrypted section for the company data, which can to some extent be controlled and administered by the company's IT department.
The result: In the "containerized" workspace, the company data is stored completely separated from the private contacts, apps, pictures and videos on the rest of the phone. If the phone has been lost, the IT can lock the device remotely and also "remote wipe" the workspace, securing that no company data will be stolen.
The advantages of using the COPE model with an MDM
By offering a COPE-Model in your business, you:
Give something back to your employees
Build a better corporate identity
Motivate your team and enable better in-house technical equipment
Provide employees with the right devices to use at work
Save time, money and effort
Create the possibility to combine business and private use. To do this safely, you'll need an MDM software.
Mobile Device Management: Why should I use MDM with COPE?
"MDM" stands for mobile device management. The aim is to administrate the devices used by employees as optimally as possible. Therefore, using MDM provides you with a detailed overview and creates an overall solution for the company.
Using a MDM-system saves the company lots of time and ensures security against potential cyber-attacks. As said, the main benefit and a standard feature in all MDM software is the separation of private and company data.
Data Separation with MDM COPE
The biggest concern holding many companies back from switching to COPE is the issue of data security. After all, there is a fear that private data could get mixed up with business data. To ensure that this doesn't happen and that all users can get the best benefit from their mobile COPE device, the MDM guarantees a strict data separation.
This means that private user data and business-related data are immediately separated from each other.
Read more here:
COPE with MDM – Safety comes first
At Everphone, our goal is to equip all employees with a COPE device. This makes sense both economically and ecologically. If your company already has a MDM solution in place, we will just integrate the devices there. If not, we will equip your company with MDM licenses from one of our technology partners.
In example, you can activate the "remote lock" function whenever a device is lost, which immediately locks the device and prevents data loss. Your employees will also benefit, as exclusively self-used cell phones often do not have these features. The data resulting from private use and business application remains secure.
Beyond that, the end devices are safe from hackers and from external attackers. Therefore, all internal company processes managed via mobile end devices can run under maximum security.
When using a MDM solution, COPE models are no longer a problem in terms of data security, data protection and data protection regulations such as the GDPR. You can fully concentrate on your core business.
Company Phone private benefit advantage
The option of using the company cell phone for private purposes offers many advantages for your whole team.
On the one hand, you create incentives for the employees. With this additional reward, you express your appreciation and ensure good employee retention.
Besides, you guarantee that your colleagues are equipped with the latest technical devices. They all benefit from additional protection, as the mobile devices are protected against attacks and data misuse.
In the dashboard, you can evaluate all business-related data. So, you can derive important strategic decisions from it. Your employees' private data, on the other hand, remains secret and no outside person can get access to it.
A COPE-MDM-System creates a win-win for everybody. With "Phone as a Service" by Everphone, you will get a scalable and demand-driven solution for your hardware and the MDM software needed for your COPE project.
 Company Phone private use sustainability
Having two or more cell phones is a colossal waste of resources. To stay up to date with the latest technology and operate sustainably, you need a new solution for managing mobile devices.
Separating business and personal phones no longer works these days by carrying multiple devices. Instead, we offer you the best business usability by installing a suitable COPE MDM system. Thus, your whole team will manage to combine both business and private use. This is done strictly separately and in compliance with the best security standards.
Which apps at COPE?
Unlike the BYOD (bring your own device) variant, where you can never be sure which apps and operating system versions are in use for your company, you can also implement global device policies as an administrator with COPE and MDM. Software distribution is a standard feature of most MDM softwares.
This means you can always select the right settings for your employees in the dashboard. With standard MDM solutions, your team will be equipped with smartphones and end devices with the least possible effort. You save time, nerves and money and upgrade the technical standards in your company.
If your company uses in-house apps or software during working hours, you can view the usage behavior of your employees. Afterward, you can use the data to make strategic optimizations so that your team can use the resources in your company in the best possible way. You can pre-install the most important ones you need for your business and define various user groups with different software profiles.
Using private apps on COPE company phones
At the same time, your employees can freely choose which apps they want to install on their personal area on the smartphone. They can twitter, instagram and tinder without restrictions. The IT admin can't interfere or monitor neither data nor usage.
We at Everphone support you with the whole setup. Whatever the challenge, our team is there to help you with expert assistance. For your customer experience, our team will answer any technical questions you may have about your COPE-based mobile device management system.
COPE and MDM – Apple or Android?
At Everphone, we think that employees should choose their own device. Some like iPhones better, others prefer Android devices. IT's best to take this preferences into account when deciding about a company phone that is intended for private use also.
Most MDMs can handle both operating systems. However, there are some speicalised softwares that work exclusively with iOS (example: Jamf) or Android (example: Android Enterprise Essentials). At Everphone, we can support you in selecting the MDM which is right for you. Find more input on MDMs in our whitepaper – the download is free!