Supplying your employees with company mobile devices is a great way to manage and boost productivity, crack down on security, and streamline your workforce. But Mobile Device Management for small businesses can be a minefield when it comes to navigating the market. Use this guide to find a workable solution.
Why is MDM important for SMEs (small and medium-sized enterprises)?
Mobile Device Management (MDM) software unites mobile devices across your company network; but, when your business is small- to medium-sized, it may not be clear that you need MDM until you understand the benefits. The challenges faced by small businesses are the same as those faced by larger businesses; in fact, the pressure on employees and their devices to work efficiently is even greater due to increased responsibility. For this reason, finding a workable MDM solution is of huge importance to small businesses, to streamline remote workforces, ensure data security, and reduce time leakage.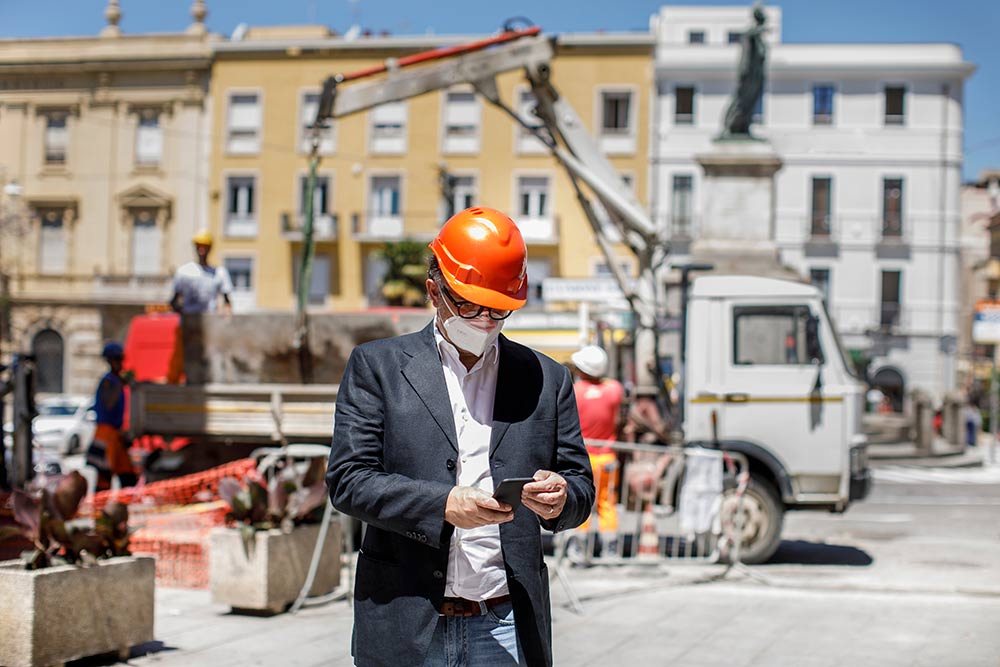 The Everphone MDM solution for small businesses
At Everphone, we aim to make setting up a network of mobile devices within your business as easy as possible. With our phone service, integrating the right MDM software is done for you, by us. Once we understand your specific business needs, we can issue you with smartphones, tablets and laptops that already have the best MDM software set up. You can simply reap the rewards.
Choosing your Mobile Device Management solution
The MDM market is highly saturated. This has benefits as well as downsides. While small businesses have a great deal of choice when it comes to picking the MDM software for them, making that choice can be difficult, complicated, and often overwhelming.
Many providers lack transparency when outlining their price structure and specific features. Often, there are hidden costs, monthly licenses, and setup fees that are not initially signposted, and these prices can change as demand increases. For this reason, comparing providers can be difficult, with no direct points of comparison from which a sense of value can be drawn. In reality, these providers differ only slightly in what they are offering because they are all designed to suit the same purpose.
Learn more here:
Every MDM software solution will offer you:
Encrypted 'containers' on each device to separate private and business data on each device ("COPE" strategy)
Password protection and other security features
Remote control and access options
Cloud-based central hub with automation capabilities
Control over system updates
Central app rollout
Device inventory with serial and/or IMEI numbers
Logging and reporting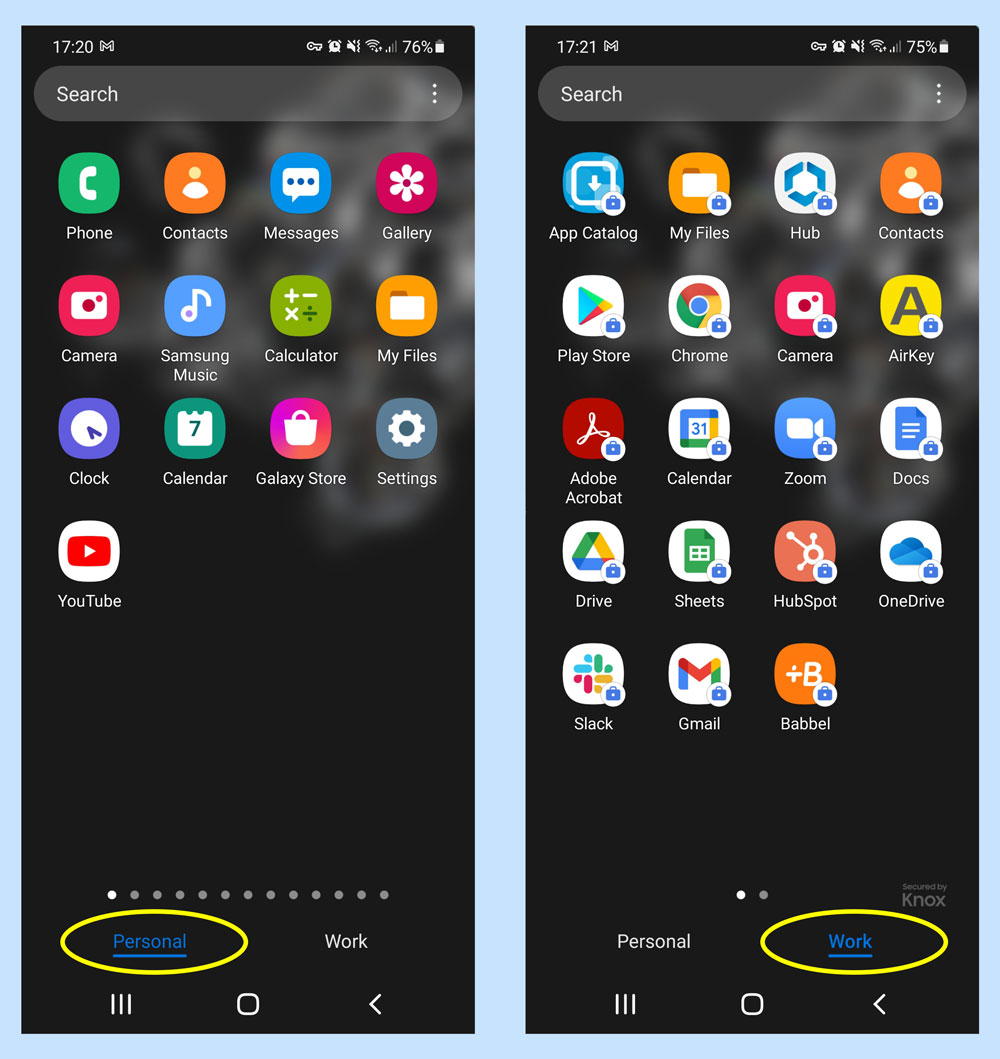 Mobile Device Management: This is how users can toogle between workspace and private app in Android 
Comparing MDM for SMEs
You can first separate MDM software manufacturers by their size. Microsoft, VMware and MobileIron are examples of larger providers who will typically charge a higher price than smaller providers. Larger providers are usually able to offer more flexibility within the system or extra features and niche integrations. Smaller providers may be limited to certain device hardware so will restrict you to either iOS or Android devices, when you may need to keep that flexibility. When weighing up the most important pros and cons of each MDM software solution, consider:
Hardware restrictions
Ease of device setup
Range of security features
Usability of the central device management platform
The best MDM software for small businesses
Take a look at some of the best MDM software for small- and medium-sized companies on the market.
Android Enterprise Essentials
Android Enterprise Essentials is perfect for small businesses that only want to use Android devices. It is powered by Google, and provides an affordable alternative to the complex features offered by larger providers. This simple MDM focuses on the most important functions, such as always-on malware scanning and screen locks, and remote device management. In addition, users require no specialist IT knowledge.
SimpleMDM
SimpleMDM is exactly what the name suggests. This MDM software solution prioritises being quick and easy. Device enrollment can take as little as just one minute. It runs exclusively on Apple devices, which makes it specially adapted for Apple features, and has a no extra fees policy, so you can be sure that everything is included in the license cost. Security features include SCCs, GDPR compliance, and Privacy Shield.
Jamf PRO
Jamf PRO is compatible with all Apple devices and focuses on device customization to improve user experience. Apps can be bought in bulk and deployed across devices in a self-service app store with only the settings that are necessary. Jamf PRO comes with its own security features, and allows you to create reports and alerts, and manage all licenses and warranties.
ManageEngine
One of ManageEngine's best features is that it comes with a choice between an on-premise or cloud-based solution, which gives small businesses greater flexibility in adapting MDM to their pre-existing systems. It works across operating systems and allows you to enroll BYOD devices into the system. Security features include remote data-wiping in case of theft or loss of device, customizable access to business data, and VPN and Wi-Fi parameters for users. And what's more, the free version can work for small businesses.
VMware Workspace ONE
VMware Workspace ONE is another example of an MDM software that can be on-premise or cloud-based. VMware provides a good balance between complexity and depth of features and ease of execution. It brings together data insights from across your team, unites all your mobile devices, and simplifies the essential security processes needed across all devices. You can also develop your own digital workspaces and apps for use over the cloud.
Scalefusion
Scalefusion helps you effortlessly manage the devices used by your team, whether they are BYOD or corporate-owned, including in-vehicle and rugged devices. Enrollment takes as little as 15 minutes, and can be done via email, zero-touch, QR codes, Google Workspace, and more. Apps can be uploaded, updated, and deleted across the network, with added security features such as Gatekeeper and Firevault security. You can also schedule tasks to individual devices, and generate reports that help keep productivity high.
Hexnode
With Hexnode you can manage all desktop and mobile devices together, across iOS, Android, Windows, Fire OS, macOS and more. While offering perks on each platform (such as integration with Sony for Android), businesses using Hexnode can enable BYOD, even for wearables. Restrict app usage, get notified when blacklisted apps are installed, and activate features such as remote lock, Conference Room display and instant file deployment. Hexnode offers a wider range of features than many alternatives.
Fleetsmith
Fleetsmith offers a one-click process for setting up devices and importing your employee directory, as well as automatic sign-in options for users. You can select apps for your employees and automatically install and update them across the board. It functions exclusively on Apple devices.
Contact Everphone for more MDM information
Everphone is a certified reseller of Android devices and Android Enterprise Essentials. We believe in its advantages and can therefore offer expert advice on how this MDM solution would benefit your business. However, we can also integrate the MDM solution that you already use.
For more information, check out our MDM whitepaper.