Are you thinking of supplying your employees with mobile devices? Or do your employees have company mobile phones, but you're concerned about your company's security? The best option for your business is to consider borrowing a smartphone for each of your employees from Everphone. Read further as we tell you more about the advantages of renting mobile devices for your company that come equipped with MDM software and other helpful features!
To borrow a smartphone for each of your employees has many advantages. A mobile phone rental provider like Everphone will not only roll out the desired devices directly to your employees, but also support you with mobile device management software (MDM) on rented employee phones to secure your business and client data.
Smartphone rental: does my business need it?
Remote working is more prominent than ever. Whatever the size of your business, your employees working remotely require smartphones, tablets, and laptops to complete tasks and communicate with each other. It may be convenient for your business and employees to use their personal mobile devices, but this arrangement may come with many potential security risks. A smartphone rental agreement with a provider like Everphone is a more affordable and secure option for your business.
In today's economic times, it's not financially viable for your company to procure expensive top-of-the-range smartphones for every employee. In addition, it costs money to have smartphones configured to avoid security breaches. If you intend to save some money on that, you could employ your IT department to configure the procured smartphones. Unfortunately, this could overload the IT department as there may be resources that could be used elsewhere.
At the same time, you want your remote employees to be as productive and motivated as possible. You can save money and get the best productivity out of your remote workers and IT team if you borrow a smartphone for each employee. You can rent the most recent smartphones at a fraction of the cost. The added benefit is keeping your employees motivated by allowing them to choose between iOS and Android devices and providing them with the latest technology to do their work. The devices can also be used privately, as personal and business data is strictly separated on the phones.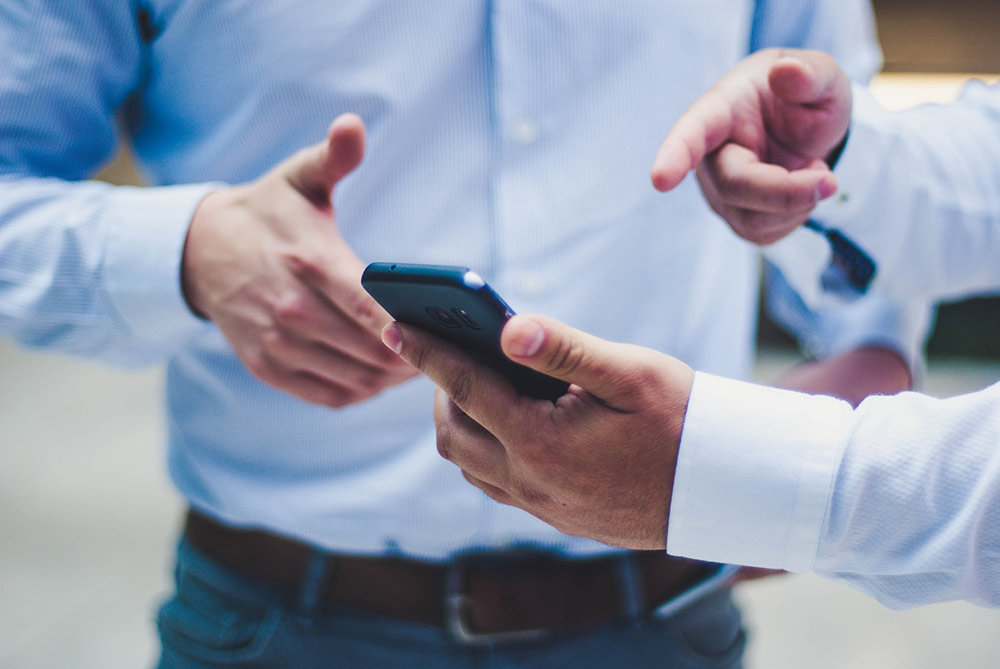 Everphone mobile phone rental will ensure that every company device is enrolled in a mobile device management software (MDM) – either the MDM you might already be using, or an MDM from one of our technology partners.
Thanks to the MDM software, all devices from Everphone are compliant with privacy acts of various US states, the EU General Data Protection Regulation (GDPR), and the Data Protection Act in the UK.
Borrowing a smartphone vs. leasing a smartphone
There are significant differences between mobile phone rentals and leasing a smartphone for your company. When you lease mobile phones for your company, there may be surprising buyout fees associated with the end of the lease agreement that your company has to pay. Also, leasing may save you a bit of money, but it doesn't transfer ownership of the mobile phones to your company.
Other disadvantages of leasing include the leased smartphones not being set up with security tools to protect your business. It also means that your IT department has to procure, configure, and deploy company mobile phones. Intermittent repairs due to poor iPhone durability may also be required.
Most importantly, you won't have your company mobiles configured with mobile device management (MDM) or security software. If you're thinking of retaining a third-party software provider, it will significantly hike up your expenses. At Everphone, you'll receive an all-in-one phone rental service at a fraction of the cost.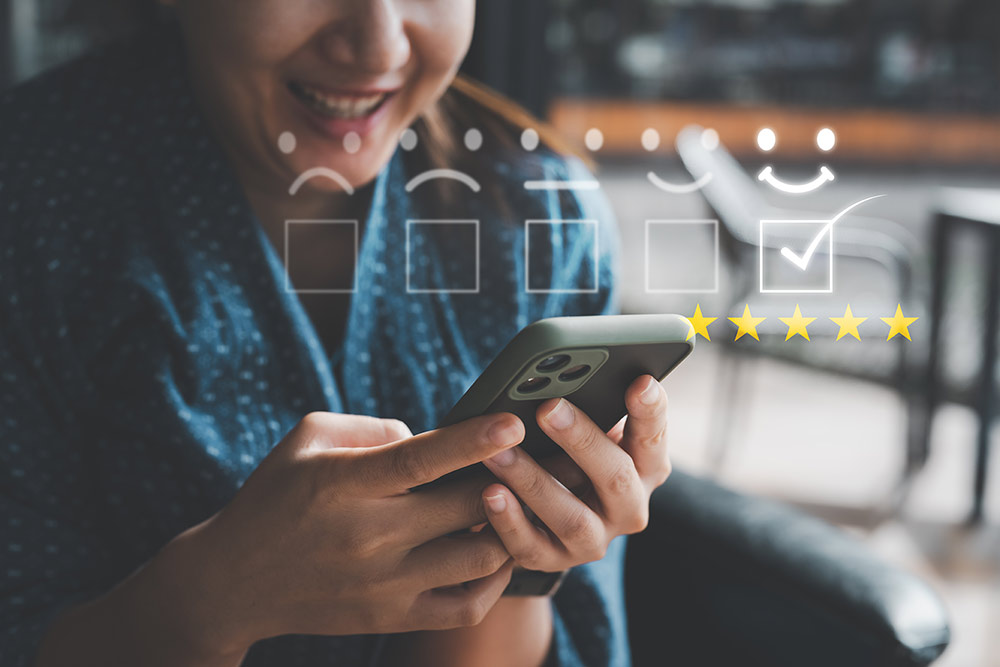 What's mobile device management (MDM)?
MDM software allows business to separate the workspace on a device between work and personal. This means that all data on the device is separated and can't be copied from one workspace to the other. This secures business data while also protecting the employees privacy. MDM also allows the IT department to remotely access the devices to install software and updates or to wipe the data in case the device is stolen or lost.. MDM is done through the implementation of specialized software and can be installed and configured before the devices are given to your employees.
The difference between a container app and MDM software
You're probably familiar with container apps if you've endeavored to keep your company's smartphones protected. MDM includes containerization features, along with others that make it more useful than just a container app. Another difference between MDM software and container apps is that MDM software can be configured on both Android and iOS devices.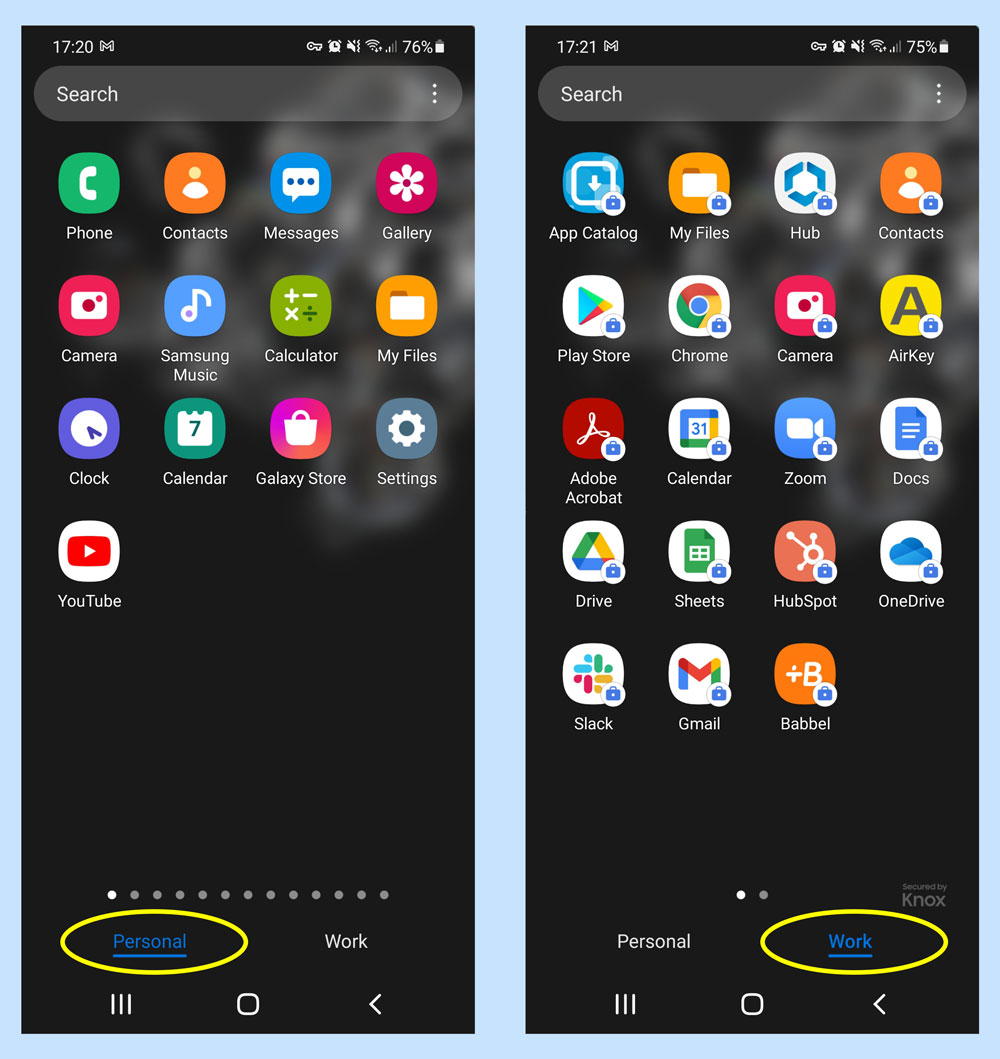 Workspace container as visible under Android 11
MDM is also designed to work on various operating systems. Container apps are designed to work on specific manufacturer phones and operating systems, making it a limited technology. The second main difference is that MDM allows for the pre-configuration of applications. Thirdly, MDM streamlines device (asset) management.
Your Company Needs an MDM System If:
Your company hasn't taken sufficient steps to secure your corporate, employee, and customer data on company smartphones.
Your company requires an upgrade of all employee mobile phones.
Departments are preoccupied with the procurement, configuration, deployment, mending and disposal of company mobile phones, especially the IT department.
Your company may require a mobile phone long-term rental if your company has employee phones that require configuration updates with the latest in-house applications.
Your company needs to document mobile phone users, company, and privacy mobile policies.
How does borrowing a smartphone and MDM work
Mobile Device Management (MDM) software sets up easier device deployment and rollout of in-house business applications without much intervention needed by IT.
Everphone includes MDM software for your business with the 'phone as a service' borrow a smartphone rental model. All employees and future new employees will receive an email link to register. MDM is automatically installed on the company mobile phone. The software will create a secure workspace for all IT-approved productivity applications. IT will be provided with an application whitelist by Everphone. Only applications on the whitelist can be installed in company workspace areas on the device.
Employees may install all other applications in the personal area. They can install Google, Facebook, YouTube, and TikTok, among others. Data can't be transferred between the secure workspace and non-secure private area making the setup more secure.
Why you should get MDM and mobile phone rental
There are many advantages to getting MDM and mobile phone long-term rental for your company. Let's look at them in more detail:
Company motivation
When you borrow a smartphone from Everphone, you'll be giving your employees a chance to choose which type of phone they prefer. They'll be able to choose between Android or iOS devices. Employees will feel a sense of recognition and reward. They'll be able to use the company mobile phone for business and personal use safely. This will boost motivation and productivity levels.
Fast deployments and roll-outs
It doesn't matter how many employees you have in your business. Rolling out and deploying new software, policies, access rights, and more can be very time-consuming if you have to set up each mobile phone individually. It becomes a mammoth task if you have more than 50 employees with company smartphones. The MDM software on each mobile phone rental will enable remote central rollouts saving an enormous amount of hours.
You'll be freeing up the valuable resources in the IT department to focus on more productive tasks to improve your company's IT infrastructure or internal operating level agreements.
Improved corporate security
This is the most important advantage. A data breach can have detrimental effects on a business. Loss of company revenue, recovery costs, and recovery expenses are just a few adverse consequences. MDM software on all your borrowed smartphone rentals protects against data theft and loss. All data policies and user rights are defined and implemented from a central location. The mobile's added secure workspace containing sensitive company data can be accessed and removed remotely from the mobile phone should the mobile device get stolen or lost.
Affordability and value for your money
Saving your company a pretty penny will enable you to focus those funds on other more important business issues that may need attention. Recycling of old smartphones is a good way to lower the costs. We show you where to take broken smartphones to starting with the process of recycling it on your own. You'll eliminate the need to pay off ongoing mobile contracts and pay high prices for the latest iPhone or Android phones – whether you're leasing or buying. Everphone will help you equip every employee with the right mobile phone rental plan at the most affordable prices.