Should you consider getting rid of your old phone by dumping it in the trash, it will end up at a landfill, which is the last thing you want to do to the environment. Smartphones are made up of toxic chemicals that can impact workers' health, crush garbage and contaminate groundwater at a landfill, which can poison surrounding water resources.
Alternatively, you can safely dispose of the old cell phone or even make a small profit by selling it, which is more responsible than dropping it into the trash.
Sell or dispose of old cell phones: where to start
We use our mobile phones for a year or more before we upgrade or want to get rid of our old phones, but we have accumulated a huge amount of personal information during this time. If you use a company phone, you probably have a lot of important and confidential business information stored on the smartphone. It is crucial to have the phone serviced by a professional company before you sell or dispose of old cell phones.
You can still sell old cell phones and not just get rid of old phones
If you have a functional phone with up-to-date software and it's in good condition, nothing holds you back from selling your phone. Whether it is on a secondary market or a specialist phone recycling company will be up to you. Also many manufacturers offer a trade-in option for your old phone – if you purchase a new one.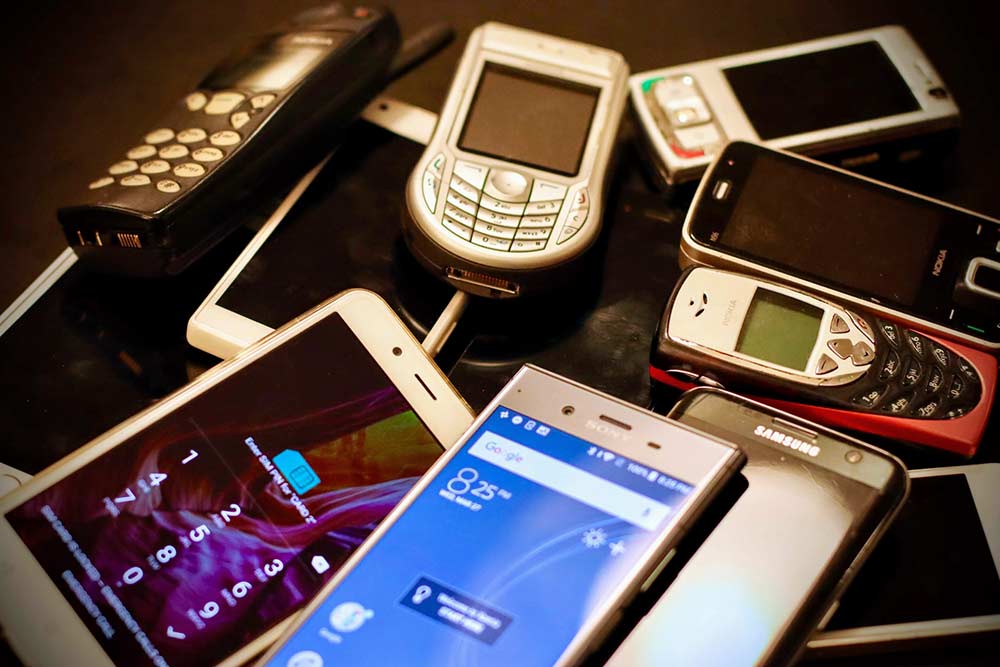 Disposing of old company phones
For company phones it's a bit more tricky – things like a certified data deletion come into play and also of course the quantity makes a difference. However, for many organizations it is too troublesome to properly dispose of devices that are no longer in use. More often than you would suspect, these gadgets then end up in some drawer in a lonely IT cupboard.
But it doesn't have to be this way. One alternative for your company: instead of just getting rid of old phones, sell your old cell phones to Everphone, who will assist you with a device rental plan in return. You will be able to subsidize the rental with the money you made from the sale. The best part is that disposing of the devices is no longer your concern. In your rental contract, Everphone agrees to recycle or refurbish any of your faulty or outdated devices.
Don't leave old smartphones in the trash – value old phones
Why is it so important not just to leave old smartphones in the dumpster and let the garbage disposal deal with it? Firstly, because cell phones contain so many toxic materials that are extremely harmful to the ecosystem. Secondly, smartphones contain a lot of valuable resources such as metals or Rare Earths that can be recycled. The more of these secondary resources can be reused, the less raw materials have to be mined or otherwise developed.
Read more about the ecological impact of phones here: CO2 in smartphones.
Here are some reasons why you shouldn't dispose of a mobile device in the trash:
The plastic casing can take thousands of years to break down.
Battery acid from the phone can leak into the ground.
Beryllium, lead, and other chemicals poison water sources, which affect ecosystems and wildlife for miles around.
80% of a phone is recyclable
Valuable metals such as aluminum, gold, silver, and Rare Earths could be retrieved and reused.
Discarded hardware can be used to support up-to-date software. Once these devices are refurbished, they can still be used for some more years before being recycled. So, rather sell or dispose of old cell phones for money than dump them.
To dispose of old cell phones or continue to use old cell phones?
You might think it will be more cost-effective if your company continues to circulate and use old phones instead of getting rid of them. Ultimately this might have the opposite effect on your company and cost you more. If you leave old smartphones and continue to use them without the necessary service, it could be costly to fix or replace in the long run.
With company devices being an essential part of running a business, the tech turnover tends to be high, so managers will look at cost-effective ways to dispose of old cell phones for money. It is Everphone's business to ensure that your company devices are disposed of properly.
How Valuable are Old Mobile Phones?
It is a tricky one because it will all depend on the age of the phone, the condition it is in, and where you will be selling it, of course. Don't get discouraged that older devices won't sell easily. There are a lot of people interested in buying recycled phones.
If you sell old cell phones to a recycling outlet, you could look at more or less at £40/device, but if you are a company with a large old cell phone inventory, you could make a more substantial amount, which can go towards new device contracts. In the end, it all depends on what option will suit you or your company the best.
Final Thoughts
The final decision remains yours as long as you don't toss it in the dumpster and harm the environment. Keep in mind that we want to leave a legacy behind for future generations to come. So whether you decide to sell or dispose of old phones, you can count on the Everphone team to constantly work on new ideas to make using mobile devices easier, more affordable, and more sustainable for you and your company.