What is mobile application management (MAM) and why are so many businesses turning to MAM to improve their business security and operations? In this blog post we'll be exploring everything you need to know about mobile application management and highlighting some key MAM features.
What is MAM?
Mobile Application Management (MAM) enables businesses to control and monitor business-related data on mobile devices. With an MAM you can set up application management policies that prevent users from moving business data to unauthorized places. You can also remove any data that you no longer want your users to access.
Some of the leading MAMs on the market today include Jamf Pro, Sophos Mobile, IBM Security MaaS360 with Watson, and Esper.
Why is Mobile Application Management Important?
Mobile Application Management allows IT administrators to exert more precise control over every element of a businesses mobile strategy–no matter if they want to deploy an MDM on Android or iOS devices. Through minute changes in app configuration you can improve the security of corporate data and reinforce levels of authorization and access. This is ideal for businesses with lots of staff that work remotely and use their mobile devices for both business and personal communication and storage.
MAM and MDM – What's the Difference?
It is hard to draw a clear line between Mobile Device Management (MDM) and Mobile Application Management (MAM). There's a mixup of definitions and meanings, as the "management" refers to both the activity and the software solution. To scatter the MAM semantics even more, most MDM software also boasts application management features.
In this sense, MAM can be viewed as a subfield or subdiscipline of Mobile Device Management, the latter itself being part of the even broader Enterprise Mobility Management (EMM).
In consequence, when you do a Google search for MAM, you will stumble across the well-known MDM protagonists such as Microsoft Intune, VMware, Blackberry or Maas360. However, there are also solutions that exclusively focus on the software features and do not offer MDM "hardware" functions such as device inventories.
As part of a more significant mobile strategy, MAM software enables administrators to apply and enforce policies on specific apps that access corporate data. MAM software allows you to do all this while leaving personal data and applications alone. This targeted control system is incredibly valuable for IT administrators looking to improve security and maintain convenient functionality.
Key MAM Features and Methods
Containerization
One of the key features of MAM solutions is the containerization functionality. This approach is also known as application sandboxing and allows administrators to isolate an app or a group of apps from other apps on a mobile device.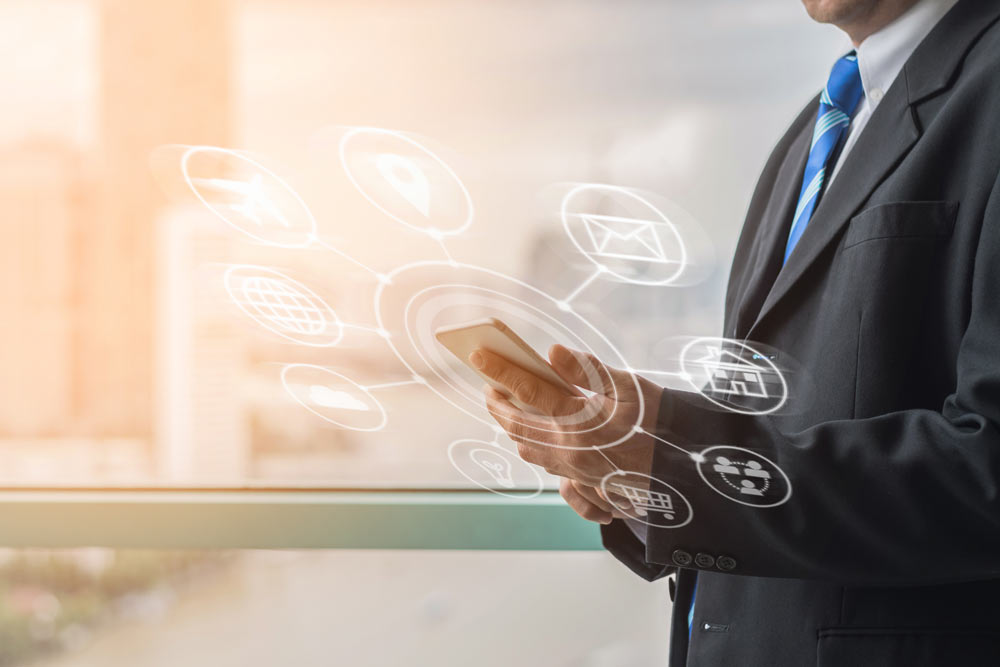 This is particularly important for employees that use their mobile devices for both personal and professional purposes. Containerization allows staff to keep using their phone freely while maintaining a robust level of security over important work-related apps.
Internal App Store
Some MAM systems provide you with an internal app store of private and approved applications, like Salesforce, that meet regulation standards and ensure a consistent level of security and performance. This is important for businesses of all levels that need their employees to access a variety of apps on their mobile devices.
Application wrapping and Software Development Kits (SDKs)
Businesses also use MAM software to add additional code to an app. This code connects the app in question to back-end MAM software. This allows administrators to take specific measures to protect data on the app as well as apply and enforce individual security-related policies.
Remote App Configuration and Updating
With MAM systems in place, businesses can remotely configure and update apps whenever they need to. This is a basic MDM feature that will be helpful all year round but it is also a useful tool if there are any internal security changes within your company.
Most MAM solutions will allow you to carry out configuration and updates remotely which is important if you still have lots of staff working from home.
Using MAM Solutions Today
As you can see, MAM solutions can play a significant role in your mobile security strategy. They can assist with granular problems and also play a key role with large issues of security, convenience and communication.
Most Unified Endpoint Management (UEM) packages will include both MDM and MAM systems. When choosing the right UEM and MAM for your business, it is important to consider which MAM features you need now and which features you might need as your business grows.
Equally, if you are thinking about mobile security and management then you may also be thinking about the type of phones you want your employees to have. Getting  high-end smartphones is key to facilitating communication, creativity and effective business decisions.
Today you can rent a whole fleet of mobile devices through the "Phone as a Service" system from Everphone. We will be glad to support you with any strategic questions on enterprise mobility topics from MDM over MAM to MIM.