If you're a Head of Workplace Services, you may have staff who work remotely using their private smartphones for business communications and completing company tasks. There are better alternatives, though.
Your business may also have staff that require company phone upgrades. Perhaps your business expanded so rapidly that you need help managing your company phone corporate policies and user agreements. Maybe you're concerned about the security risks of unregulated mobile phones and the possibility of security breaches. Everphone's complete 'phone as a service' rental agreements can solve all these issues for your business.
Everphone specializes in company phone rentals, installing mobile device management (MDM) software, and installing the latest security technologies to secure your corporate, employee, and client data. Read further and see why corporate smartphone company phone rentals can improve the overall performance and security of your business.
Who owns the company smartphone?
When you rent a smartphone, there is no change of ownership at the end of the rental agreement. Your company will use the company phone for the period of the rental agreement and may allow employees to also use the device personally as part of the company benefits.
At the end of the agreement the smartphones are returned and you'll have the option of signing a new rental agreement and receiving new company phones for all your employees. Technology is always evolving. Your staff will appreciate receiving the latest tech to complete their work more efficiently.
When do you need to rent a new smartphone
If your company requires upgrades and configuration updates of all your employees' mobile phones, you can save a significant amount of money when you rent smartphones. Smartphone rentals are also a better option for your company as it will free up valuable resources as they won't need to spend valuable company time procuring, configuring, and deploying company smartphones.
Renting a company phone for employees also secures your corporate, customer, and employee data. When your company rents smartphones, you can have much needed company smartphone security policies and user agreements set up by the MDM software that comes with all smartphone rentals.
What the employer can see on a company smartphone
When your business rents smartphones for your employees you'll have the peace of mind that your company's security is covered. As an employer you'll have access to the smartphone's location, corporate emails, security information, and corporate data. The company will also be able to see all the applications that are on the company phone.
However the MDM software makes it possible to set up two separate workspaces on the device, one for business and the other for personal use. The employer will have access to the company workspace, but not the personal one – ensuring that employee privacy is maintained.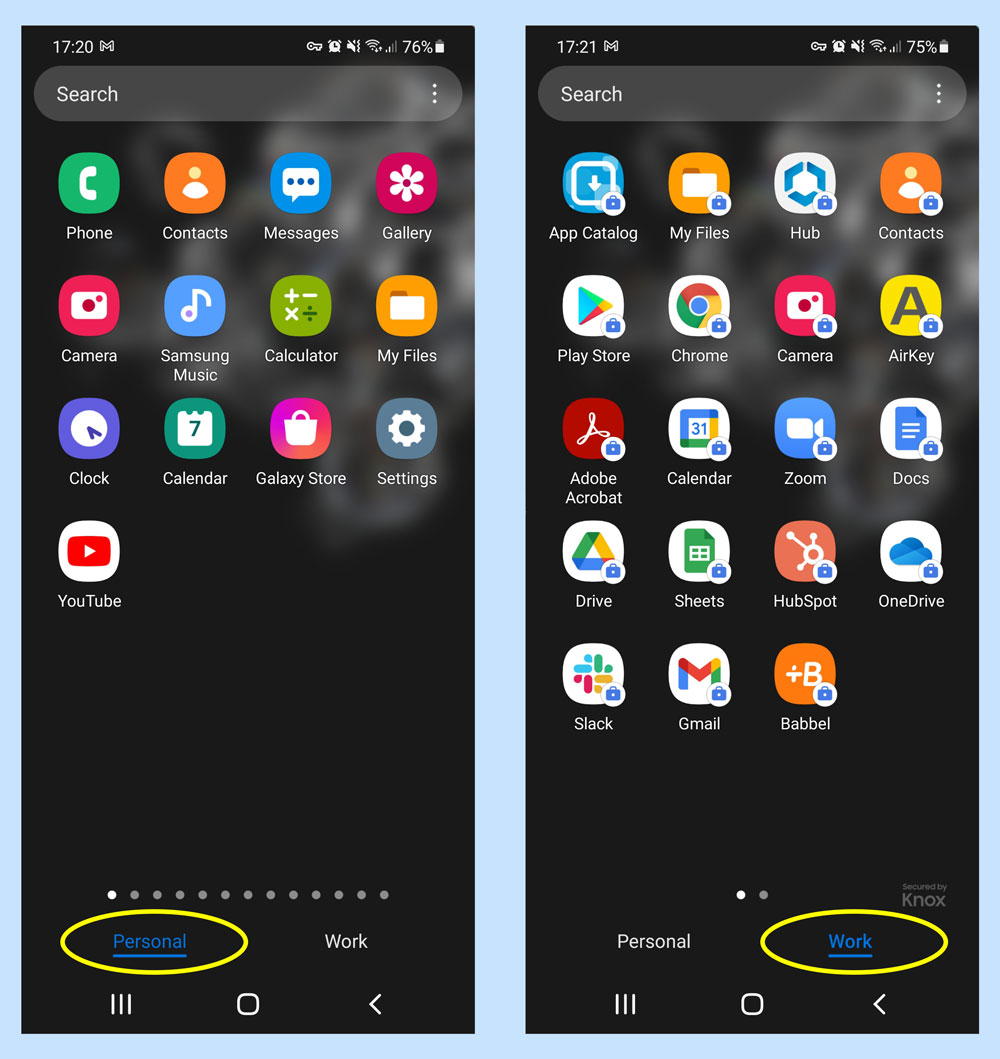 Personal and business workspace under Android
Why corporate smartphone rentals are better for your company
There are many reasons why corporate useful smartphone rentals are better for your company. The most important advantage is protecting your business from security breaches, thereby minimizing the risk of adverse consequences. Let's look at these advantages in more detail:
1. Reduction in expenses
It doesn't matter how big or how small your company is. In today's economic climate, everyone is in the business of saving money wherever possible. It's not financially practical to purchase a company phone for each employee anymore. Top-of-the-line mobile phones are expensive. Upgrading 10 or so is probably okay, but it quickly adds up to a mammoth amount when upgrading all mobile phones for a company with a personnel list that's 50 employees strong.
Another factor that'll reduce your operational costs is not having to bring in a third party software provider to install the latest security technologies on mobile company phones. These providers will usually install and contract the software to your business for a certain amount of time. Once the contract expires, your business will have to renew and upgrade the service agreement with the software service provider.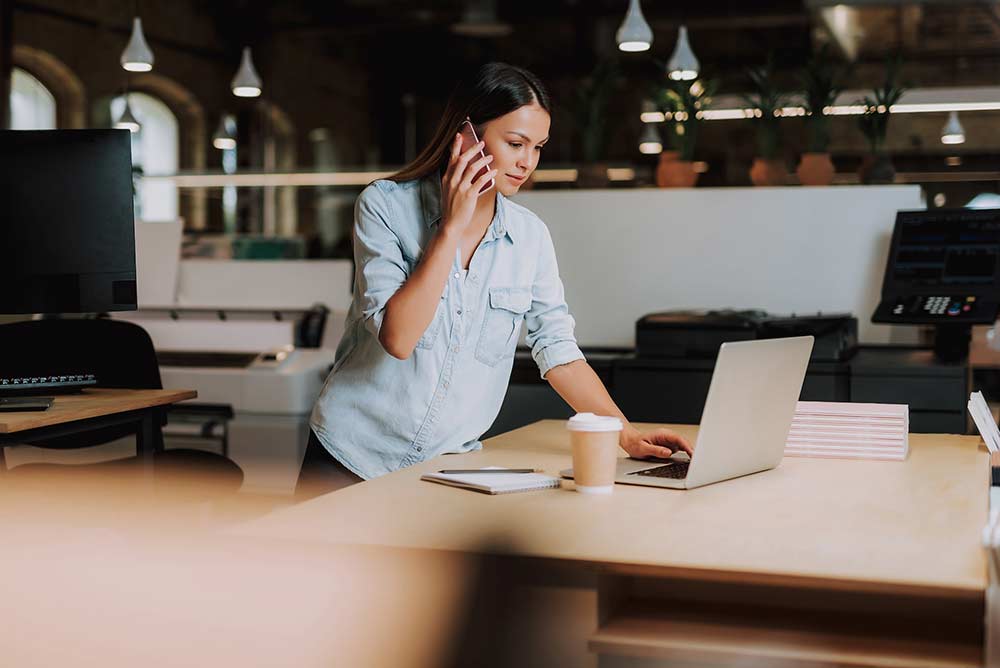 Everphone offers a full rental service of the top-of-the-line iPhones and Android phones from Samsung, Google, Fairphone, and Nokia at a fraction of the cost. All employee company phones also get free mobile device management (MDM) software installed in the service agreement. The old phones can be traded in for new top-of-the-range devices under a new rental agreement when the old agreement has expired with Everphone.
2. Freeing up valuable resources
Suppose you're thinking of saving money by employing your procurement and IT departments to purchase, configure, and deploy each employee's company phone. In that case, you may be underestimating the time and resources needed to roll out a business phone to each staff member successfully. Procuring, deploying software, setting up user policies, creating access rights, rollouts, and installing company in-house software on each company phone individually takes an extensive amount of time. Again, we use the employee mark as an example – it adds up to an enormous amount of person-hours.
You'll free up valuable resources when you get a company phone rental agreement from a service like Everphone. Everphone's service includes deploying and configuring company phones from a central location. You'll ensure the IT department is more productive by applying their skills, focusing on internal operational service level agreements or customer service level agreements. Their time could be well spent on improving IT infrastructure or areas that require more urgent attention.
3. Minimizing the Risk to Company Security
Another reason why corporate smartphone renting is better for your company is that it decreases the risk of security breaches. A security breach can be detrimental to your company, and in the worst circumstances, some companies can never recover from the adverse aftermath. To save your company a loss of revenue, business, and customers, we strongly advise that you arrange a free consultation with an Everphone expert.
Everphone's services include defining company phone data policies and user agreements and deploying MDM software that creates secure business workspaces on all company phones as part of the 'phone as a service' agreement. A company phone's secure workspace that contains sensitive business information can be accessed or removed from a secure central location. All data can be removed remotely should the company phone get stolen, breached, or lost.
Why corporate smartphone security software is also better for your business is because it's compliant with privacy acts of various US states, the EU General Data Protection Regulation (GDPR), and the Data Protection Act in the UK. You'll also receive the best mobile device management (MDM) software which includes your company branding installed on all your rented devices.
4.  Keeping staff motivated to perform
At Everphone, we offer a company phone as part of our 'phone as a service' agreement to suit every employee's preference and business needs. Employees will have entitlement to a company mobile phone of their choice. We have top-of-the-range iPhones, Samsung, Google, Nokia, and Fairphone Android phones. In our experience, we've found that staff feel a sense of reward and recognition from the business if a phone is provided for work and personal use. Employee motivation and performance levels are naturally boosted when staff are given entitlement to a company phone of their choice.
Employees will also have unrestricted and safe personal use of a business phone. Everphone's MDM software creates both a personal- and workspace. It doesn't matter which apps on a company mobile phone and what data they download on their personal spaces. There will never be a threat or risk to the secure workspace when the Everphone MDM software is installed on the device.
5. Leasing vs renting
When leasing, there are usually surprising hidden costs involved, and your business will probably have to pay buyout fees at the end of the lease agreement. This does not always guarantee the transfer of ownership. Other disadvantages include the leased company phones not being set up with security software. This means your company still has to complete the purchase, rollout, deployment, and configuration of the devices. Retaining a third party software service provider will also hike up expenses. Perhaps your business will have to sign new lease agreements and the old phones won't be recycled.
6. Technology updates
The advantage of company phone rentals is that your business will be able to upgrade whenever it wants. Technology is constantly evolving, and it changes every 12 months. Today's latest and greatest mobile phones are old news after six months to a year. Your employees and your business will appreciate the access to the latest company phone tech to do work efficiently.
7. Parts and labor support services
Company phone rentals include parts and support service. What to do when any of your employees have an issue with a malfunctioning device, all they have to do is let our support at Everphone know, and we'll attend to the problem or replace parts if needed. Mobile rentals can also be refurbished, thereby reducing CO2 emissions.
Take the next step!
Now that you have more information about the services Everphone can provide to your business, you can arrange a full free consultation with an Everphone expert who will answer any additional questions. Speak with an Everphone expert today and make your company secure, more efficient, and regulated.