Companies often find the process of procuring new talent tough and the task of retaining the same even harder. A smartphone can contribute to binding employees and enhancing employee satisfaction.
Why is that? It just makes sense to ensure that your employees are satisfied with their work environment, tools, and even their new work smartphone. The fact remains that mobile phones are essential tools, and it makes sense that your employees have a new work smartphone to compete better.
The smartphone as a tool
Thanks to the pandemic, economies are struggling with demands hitting the floor. Given these challenging times, it makes sense that companies would want to cut down on expenses, streamline employee performance and enhance their competitive edge.
And that's why it makes sense to check out the top employee requests. Apart from flexible working hours or remote working options to higher remuneration packages, you would be surprised to learn that a new work smartphone ranks quite high on the bucket list.
You're bound to find that the competition is cut-throat these days, with most of your competitors utilizing technological tools to gain the edge. And that's why you need to ensure your employees have everything they need, from a new work smartphone to the latest generation tablet. Simply put, a happy and satisfied employee can compete better. You will be surprised to learn that various studies have indicated the same, with companies supplying their employees with the latest tools.
New work: Smartphone and privacy
Sure, if you reason that it would be simple just to let your employees bring their phones to work, you may want to rethink that option. Simply put, your employees would be privy to confidential data and information you would prefer to remain secure. There are way too many incidents of corporate espionage and data breaches not to take data security seriously.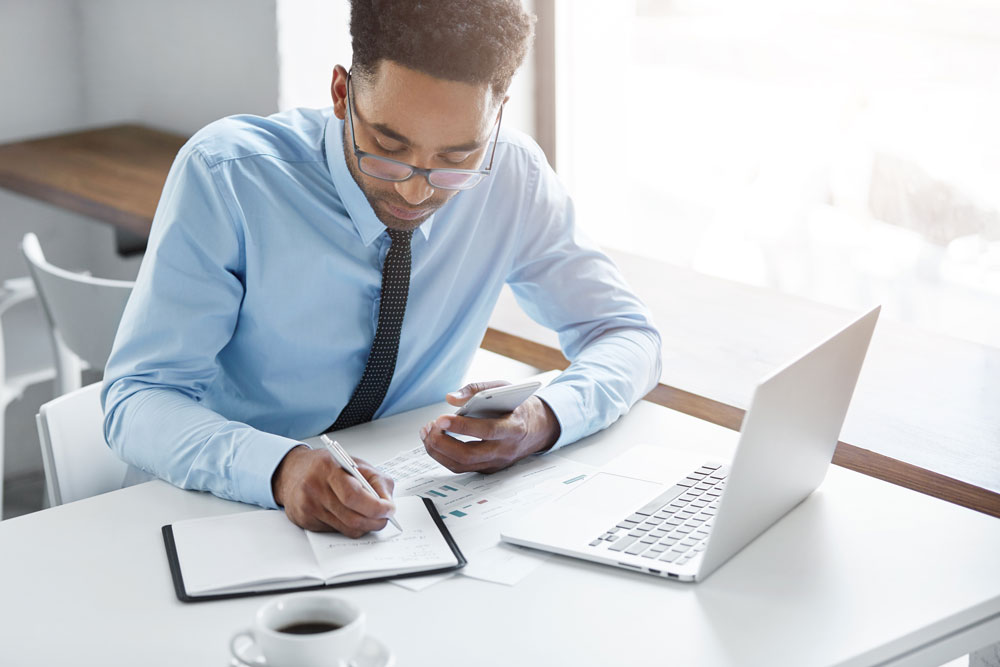 Data theft is not something you want to take lightly. A simple data breach can end up costing your company everything. It often causes top companies to lose anywhere from 90$ billion to 220$ billion annually. Now, imagine you are managing one of these companies, and you allow your employees to use their phones at the workplace.
These days all an alleged employee has to do is download and install an app that spreads malware and everything is at risk. And that's why it makes more sense to provide your employees with a new work smartphone that's vetted and secured against malware applications, data theft and invasions of privacy.
Sure, the smartphone may be part of our reality. But there's no reason that you should not go the extra mile to protect and secure your data. And by utilizing an external provider, such as Everphone, to procure, process, and maintain your peripherals, including employee smartphones on a rental basis, you will be able to gain a competitive edge.
And given these challenging times, you may want to check out the latest HR trends, including learning more about keeping your employees satisfied and setting up the right usage policies for devices. Mobile work is fast becoming a reality, and with good reason.
Working conditions
Take, for example, the "great resignation" currently underway in most corporations worldwide. Most companies are dealing with this problem because they have not supported their employees during these challenging times.
Either the company in question refused to provide employees with work-specific tools that would enable them to work from home. Or they do not have adequate healthcare protocols or insurance in place. Either one is bound to impact the employee, with good reason. And that's why the "great resignation" is currently in vogue.
Given that the pandemic makes for a stiff challenge – companies (both small and large) have modified their working model to deal with the lockdowns and restrictions effectively. For example, more than a few companies have asked their employees to adapt to the "work from home" model while providing them with the requisite workplace equipment.
It is no wonder that "health and working conditions" ranks among the top ten, of most peer-reviewed studies, on employee satisfaction. Naturally, you would not want to work from any closed office space, especially with a viral pathogen on the loose, would you? So under these conditions, you need to adapt/ modify your approach to compete better. You can always get the ball rolling by providing your employees with the requisite workplace equipment, including a new work smartphone.
Mobile work, the next level
According to a peer-reviewed study, it was discovered that most employees rank "work satisfaction" right at the top. Simply put, you will not be able to retain any talented employees if they're unsatisfied. And that's why companies and organizations need to wake up and smell the roses before it's too late.
Employees rank "work satisfaction" right at the top because they try to balance their respective careers with their home lives. And on the other end, they need to feel that they are doing something worthwhile, for which they are appreciated.
Imagine having to work like grunge all day long. These days, you are liable to find that your employees have become more apt at discerning if their current job and working conditions are satisfactory enough.
While "remote work" might be something that most employees prefer, especially these days. The same applies to their respective companies providing them with the workplace equipment to get work tasks done. That's why most companies should check out the latest mobile work options.
Greater flexibility and competitive remuneration
Most employees prefer greater flexibility and better pay scales than what they are offered at the moment. Granted that each individual can renegotiate their pay packet with their employers. After all, you would want to conceptualize "fair payment terms", right? Especially if you hope to retain that talent in your company.
You may want to take the current inflation into account. Between the pandemic and the current Russia – Ukraine war, inflation is high. Under these circumstances, most employees would expect their pay packet to increase to meet their daily needs.
Moreover, with a new work smartphone, you'll find that your employees' work has improved dramatically. Moreover, they can work from the comfort of their own homes and should be able to get more work done. Naturally, they would expect better pay scales, especially if you hope to retain them.
Mobile workforce
One of the effective methods to ensure that your employees remain satisfied is to make them part of a mobile workforce. According to a recent study, nearly 2 billion employees are currently a part of this workforce. And if you expect to keep your employee satisfied, then "remote work" may well be an option you need to consider seriously.
A mobile workforce is not just someone who works from home. The employee can utilize the latest technological peripherals to work from any location. And in a way, that makes for a more productive workforce compared to employees opting to work from the office. As per the latest trends by Citrix, nearly 61% of employers reported a drastic jump in productivity due to their mobile workforce.
Ensure they have the right equipment
You need to ensure that your employees are outfitted for remote work. And that essentially means that you need to provide them with good quality workplace tools from mobile phones to laptops. Of course, purchasing the required tools for your employees is advisable. But a better idea would be to finalize a contractor who can provide your organization with the required tools and maintain them.
As per recent surveys, most employees are becoming rapidly attuned to technology. Naturally, they expect the best regarding the requisite workplace equipment. Today's generation is known as the "mobile generation", where most of the public below 40 are well aware of technological tools and how to utilize the same.
Providing your employees with these tools should enable them to become more productive and get more work done. That is why it makes perfect sense to provide your employees with the latest smartphone. It's necessary since it can allow them to sync perfectly with the office and transfer large volumes of confidential data.
Moreover, it makes more sense to opt for a mobile workforce and one that will enable your employees to adapt to key challenges as they arise. With MDM services, you should be able to provide your employees with the right workplace equipment while ensuring that the business data remains secure in the process and that the employees' privacy is also respected.
Advantages to choosing your own device
When it comes to focussing on your organization and cutting back on unnecessary expenses, you are bound to notice a few things right away. You may want to let your employees choose their own devices. It could be a new work smartphone or the latest generation tablet. Providing your employees to opt for the model that they prefer can have the following positive effects:
Hike in productivity: Since you enable your employees to work remotely and with the latest equipment – you are bound to see a jump in productivity.
Employee satisfaction: You are liable to find that your workers are more satisfied with the "CYOD" model. They are bound to be satisfied with the outcome since they would be selecting the model they are familiar with.
Better equipment: When purchasing workplace equipment, mobile phones, laptops, tablets, and other peripherals, you must let the employees select the model. The chances are that they would opt for the latest generation model, one that comes with better apps and programs.
Data security: Since you enable your employees to select their own devices, you can ensure that the peripherals are vetted and therefore, sans any malware applications. You can go the extra mile to enhance data security at your organization by insisting that all the employees opt for the "CYOD" model (choose your own device) with MDM software installed. And if the company phone gets stolen, you can use the MDM to remotely wipe all data from the device to prevent security breaches or data leaks.
Conclusion
As you can see, a new work smartphone can indeed make a viable impact in any organization. And the impact is not dependent on the size of the organization. In simple words, your organization can even be a small company, but you would still be able to increase your productivity by following the guidelines listed here. All you need to do is pay heed to your employees' wishes for a better workplace and provide them with the latest tools. You can get started by providing them with a brand new work smartphone! That should ramp up productivity!